The Ryukyu Kingdom of Beauty

Suntory Museum of Art
Tokyo Midtown Galleria 3F, 9-7-4 Akasaka, Minato-ku,
Tokyo, Japan
Jul 18, 2018 To Sep 02, 2018
Detail: The many islands of Okinawa, formerly called Ryukyu, were where the drama of one of East Asia's most glorious maritime kingdoms was staged. The Ryukyu Kingdom, building on its cultural riches, developed its own distinctive arts, including gorgeous textiles, dazzling lacquer, and paintings, stimulated by its neighboring countries, including China and Japan. This exhibition is an opportunity to explore the brilliance of Ryukyu Kingdom art, in which East Asian cultures were blended to create new beauty, in a special collection of rare works, including treasures from the Ryukyu Kingdom's Sho Dynasty.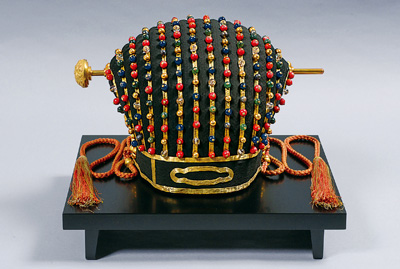 Royal Crown :Ryukyu King Sho Family Related Documents (National Treasure)
18th-19th century