Treasures from Daigoji Temple

Suntory Museum of Art
Tokyo Midtown Galleria 3F, 9-7-4 Akasaka, Minato-ku,
Tokyo, Japan
Sep 19, 2018 To Nov 11, 2018
Detail: As a center for Shingon Esoteric Buddhism, Kyoto's Daigoji temple has long been a setting for historic events. In this exhibition, we explore Daigoji's transformations from the Heian period down to modern times, using rarely shown historical materials and documents, with a primary focus on Buddhist statues and paintings designated as National Treasures or Important Cultural Properties. This will also be an extraordinary opportunity to see historical materials related to the famed cherry blossom viewing at Daigoji held by Toyotomi Hideyoshi in 1598, together with fusuma paintings and gorgeous depictions of Daigoji in modern art.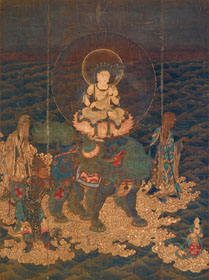 Monju (Sk. Mañjusrī) Crossing the Sea
Daigoji temple, Kyoto
Kamakura period, 13th century