<< previous image || Paubha Inscriptions || next image >>

Image identified: yogini ?
Nepal,
Date (NS/AD): 962/1842

Transliteration:
1. ? Sidhipa-la. Dharmapa-la. Ratnapa-la.
Padma-kara. Ratna-kara
? Jasalaks*mi-, Daya-laks*mi-, Bhava-nilaks*mi, Dharma
? Sam* 942 s'ra-15
Translation:
[Success] . (male devotees) : Siddhipala, Dharmapala, Ratnapala, Padmakara, Ratnakara .
[Success] . [Female devotees]: Yas'alaksmi, Dayalaksmi, Bhavanilaksmi (and) Dharma(laksmi)
[Success] [Date]: Nepal Samvat 942 (AD 1822) S'hravan*a (s'ukla) 15 (full moon day of bright fortnight of S'ravan*a).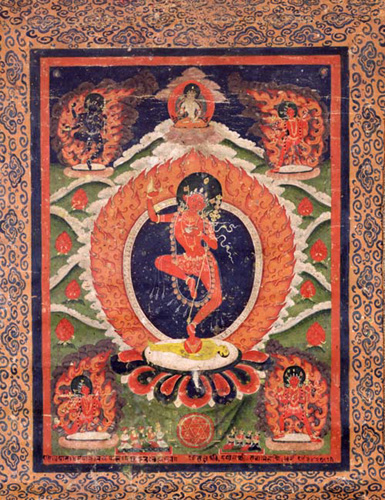 This pat*a of NS 942(AD 1822) gives no name of the diety in the inscription. Only devotees names are given-5 male and 4 female. The image in dancing posture with Naravahana (man-vehicle) seems to be any Yogini. There are four famous Yoginis in kathmandu valley, namely, Khadgayogini, Vajrayogini, Vijayesvari(vidhyadhari) and Vajravarahi.
This may be any one of them.
---
<< previous image || Paubha Inscriptions || next image >>