Asian Arts | Articles | Associations | Kathmandu University: an Introduction | Music Curriculum
Kathmandu University Department of Music
A Short Introduction
by Gert-Matthias Wegner
---
Text and images © Kathmandu University and Asian Arts: not to be reproduced without permission
click on the small images for full page image with caption
Please click here to visit the Kathmandu University web site presently being developed by Shaligram Pokharel
Use your browser "back" button to return to this page on Asian Arts
---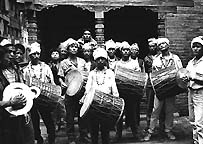 The musical traditions of Nepal are as diverse as the various ethnic groups of the country. The most complex musical culture in the Himalayas is that of the Newars in the Kathmandu valley, which in the course of the past 2000 years has absorbed mostly Indian influences in shaping a unique musical tradition.
Medieval Newar culture flourished during the late Malla dynasty from the 15th century up to the 18th century. The Malla kings of Kathmandu, Patan and Bhaktapur were devoted patrons of the arts and competed with one another in the beautification and cultural achievements of their kingdoms. Many of these Malla kings themselves excelled as musicians, dancers, poets and town planners.

The Newars live in a Buddhist-Hindu area where the two religions coexist along with a strong influence of Tantric practices and local traditional cults. In the complex Newar caste system both Hindus and Buddhists have found their place. Many of these castes perform their own characteristic musical repertory and ritual duties during festivals and processions. Newar music and dance are always related to ritual and locality. A portion of Newar music is secretly performed during esoteric rites.
Bhaktapur, a Newar farmers' town at the eastern rim of the Kathmandu valley has been able so far to preserve its traditional heritage. In 1989 there were still more than 200 music and dance groups performing regularly. With the influx of tourism and western and far eastern technologies this picture changes rapidly. It is conceivable that these living cultural treasures may vanish within one generation. For the future there needs to be an effective method for the preservation of traditional music and dance.
The aim of the Kathmandu University Department of Music is to train competent ethnomusicologists to document, preserve, spread and support the endangered musical traditions of Nepal. As Bhaktapur is considered by many to be the capital of the performing arts, this traditional town has been selected as the ideal site.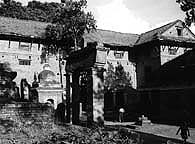 In August 1996, Kathmandu University (K.U.) will open a Department of Music in Bhaktapur, where Ethnomusicology (B.A., M.A.) and practical music (North Indian classical and Nepalese local traditions) will be taught to Nepalese and foreign students. The B.A. and M.A. courses will be conducted by experienced musicologists from Britain and Germany. Teaching staff for practical music classes will include local musicians and dancers. An exchange of academic teachers and students has been agreed upon between Kathmandu University and the School of Oriental and African Studies (S.O.A.S.), University of London. S.O.A.S. will recognize the exams passed at the Bhaktapur Department of Music.
The Kathmandu University Department of Music is situated in an idyllic setting at a 19th century temple area (Shivalaya). The Shivalaya was built by the great-grandfather of the Dhaubhadel family, in order to acquire religious merit. At present, the temple area is being transformed into the Department of Music with a library, sound recording studio, exhibition room of musical instruments, computer section, seminar room and class rooms.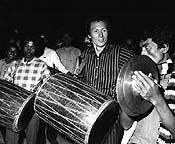 The Department of Music has been conceived by the German drummer and ethnomusicologist Gert-Matthias Wegner who has done extensive research in both the North Indian and Newar musical traditions. He has been appointed by the Kathmandu University as Head of the Music Department and Guest Lecturer. At present he is supervising the reconstruction work of the future Department buildings.
The Kathmandu University Department of Music is an institution dedicated to the preservation and continuation of the rich traditional heritage of Nepalese music. Although this institution is getting limited support from Germany and Britain for reconstruction and academic exchange, it is in need of funds for library books, equipment, running expenses and staff salaries for the initial years.
---
If you wish to contribute to this task in cash or kind, please fax to:
Dr. G. M. Wegner c/o Hagmüller, Fax No. 009771-610830
And/or forward your donation to:
Dr. G. M. Wegner, Acc.No.: 22.180.11, Volksbank Lübeck, Germany
(International Bank Code: 230.901.42), mentioning 'Donation for Department of Music'.
Also guest lecturers (ethnomusicologists) are most welcome.
Please click here for an introduction to the newly formed Kathmandu University.
Please click here to visit the Kathmandu University web site presently being developed by Shaligram Pokharel
Use your browser "back" button to return to this page on Asian Arts
Please click here for a detailed Mission statement and curriculum for K.U. Department of Music.
---
Asian Arts | Articles | Associations | Kathmandu University: an Introduction | Music Curriculum