The Future
Fig. 41. An elephant shrine
The future of the ivory carving craft in Thailand depends largely on the government's regulation of the ivory trade. There is considerable international and local pressure to ban ivory sales entirely as a result of the fact that elephants in both Southeast Asia and Africa are illegally killed to provide tusks to satisfy current high levels of demand. Conversely, there are an estimated 2,000 domesticated elephants in Thailand, some of which carry ivory 9. The present law technically allows this ivory to be sold by the elephant owners, either pruned from a live elephant or cut off of one that dies a natural death, and banning ivory sales by the proposed "Elephant Law" will render this ivory economically worthless, reducing the value of live elephants to owners. This in itself could contribute to the abandonment and deaths of elephants, as they are extremely expensive animals to keep. At some elephant camps, however, mahouts are using tusks to embellish shrines devoted to the worship of elephants, thus conferring a cultural value to ivory (and a tourist attraction when ceremonies are performed) (fig. 41, above).

Fig. 42. Prasit Prayoonwong
Banning ivory carving will also affect the livelihoods of about 120 carvers in Thailand and their dependents. The switch from ivory to cow bone carving in Phayuha Kiri (fig.42, right), for example, reduced the income from one workshop from an average $500 a month to $150 a month 10. These are also people who often are third generation ivory carvers and who therefore feel that they have a family tradition to uphold.

My research with ivory carvers in Southeast Asia and experience with them elsewhere has led me to the belief that a compromise solution is possible. There are "master carvers" who produce high quality, artistic ivory pieces and who take pride in their skill and workmanship. Elephants as living creatures also die eventually, leaving behind their tusks. It does not seem rational to squander both of these cultural and natural resources by an outright ivory carving ban.
The crux of the problem has always been the fear that allowing any ivory trade at all would stimulate demand to unsustainable limits, thus threatening the future of elephants as a species. The trend was heading in this direction in the 1970s and 1980s as ivory markets expanded tremendously and elephant poaching hit epidemic proportions. If one examines what was being done with much of this ivory, however, one sees that the electric-tool manufacture of jewelry, name seals and curios was the end product. These have little or no artistic or cultural value and could just as well be made from other raw materials. Nephrite jade and jadeite are materials in particular that offer good substitutes to ivory in terms of aesthetic appeal and quality. Mammoth ivory also produces quite similar results to elephant ivory and China is manufacturing extremely elegant sculptures in factories there (figs.43, above - fig.44, below).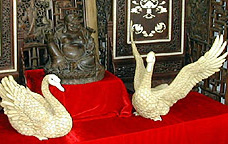 Fig. 44. Mammoth ivory

A possible resolution of the question of whether to carve or not to carve elephant ivory could lie in an agreement on the part of the craftsmen to limit production to high quality, traditional items that would consist mainly of figurines. Ivory jewelry (bangles, pendants, rings, earrings, etc.), amulets, name seals, cigarette holders, pipes, chopsticks and similar types would be banned. Bead necklaces and bracelets could be allowed if they are made from carving waste from larger pieces or junk ivory, which is usually the case today. This would reduce considerably the demand for raw ivory and could result in the possibility of a sustainable international trade in African ivory. Governments would have the responsibility to enact and enforce suitable legislation to ensure that ivory carvers conform to these limitations on ivory use.

Let all lovers of ivory art hope that one day a balance can be reached whereby beautiful ivory sculpture can be produced without the need to kill elephants.
---
All text and images © Daniel Stiles 2003