Ramdas TadkaJulius Macwan has put together a book of meetings and partings, of five friends, now all rather established artists, including one who died too early. Here are one artist's loving memories of another artist's work and life, one who left life's party long before it was time to say, 'I must go now, it is late': Ramdas Tadka. All were students at the Sir J.J. School of Art in Mumbai.
Ramdas Tadka's failing health, his struggle with cancer and his creativity form a soft, thoughtful backdrop whileMacwan discusses the worlds of JJ, Mumbai, the teachers, the learning of skills, and the exuberance of youthful hope. Until a decade ago, most Indian artists had next to no access to happenings in the wider art world, apart from some old books, a print somewhere or tattered texts on pavement shops. So little to do with the rest of the art world!
Macwan's world once consisted of 1986 and JJ. He left home and stayed with his best friend, Tadka, in one room in a fishing community. He speaks of 'days of vagueness and uncertainty, when one went about with great confidence and no clue'.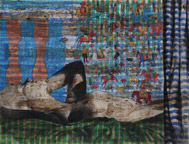 Painting by Ramdas TadkaTadka's art with its transparent floors, beautifully delineated human bodies often reflects the glowing 'ikkat' fabrics of his south Indian culture. His art was perhaps on the periphery, slightly from an earlier era, while these friends grew into the twenty first century.


J. J. School Of ArtIn India, two art institutions were well regarded: Santiniketan and the Maharaja Sayajirao University of Baroda, they had 'culture'. JJ was different!* The Baroda artists would exclaim about JJ, 'No local content. Socially irrelevant, imitative of the miniscule, pallid western stuff available here.' Art has the ability to express an act and the self. It is better than the person, it is a belonging, an identity, a survival: where was this?
Today, mercifully, the campus has still been left as spaces used to be all over the world: with simple paths, high ceilinged buildings, a consideration of light and air and most of all, old trees, serene and green. In a city now gone mad with people, with a lack of space, the JJ campus offers green shade, fresh light and a space to learn and yearn.
Macwan's book is doubtless rambling and editing would have made the words worthy of his lovely photographs. It offers a pleasurable sense of spaciousness, another long gone era, photos of Tadka and his art, of the young Sudarshan Shetty, Bose Krishnamachari, Jitish Kallat and the author. Macwan mentions that Sudarshan Shetty was at JJ from the early to mid eighties, Bose Krishnamachari from the mid eighties to early nineties and Jitesh Kallat in the nineties and modestly, leaves himself out.
The conversations between these artists, their universe, the way things were, are interspersed with photos of the college, classes, professors, the relationship between an institution and its tenants and most of all, Tadka's art.


Tadka painting detailIt mentions the tragedy of education in English because too often, neither professors nor students spoke it well and the available books were still only in English. It speaks of false consciousness, the aspiration to belong to another world, and to be taught to know that the standards, forms and aims of the west as 'the best'.


J. J. StatueColonizing has succeeded agonizingly as the only language of most higher education is English. It is spoken by 2% ofIndia, perhaps 5% if you extend the word, 'spoken' and so those not in this 5% often simply drop out.
Sudarshan Shetty had a degree in commerce when he was moved to study again. He says he had no clue what art was, just vague ideas, no idea about modern art, just jokes from magazines. One day, he said, with a sense "of there was nothing out there. I wanted to learn about modern art. I went home with Atul Dodiya and received 'a whole lecture' in Hindi."




Sudarshan"(Art students) had to reject where they came from ...that was the problem ...Nobody told us that art belongs to where you come from. You were always made to feel that art was up there somewhere, out there in the west ...in some kind of bubble and you had to draw from it and you would never be able to be in it. It was not yours, but you had to try to be in it. Alien to us, worse for the others because I could at least understand English....Everything you had to read and know was in English. There were those who spoke English and then there were the vernacular students."
For us, says Macwan, Bose (Krishnamachari) was informed, he knew about art. Shetty spoke admiringly of Professor Palshikar's 'unbelievable' portraits. He says his demonstrations were like mind blowing magic, he picked colours and they mixed on the canvas, coming out exactly as they should. The young artists dreamed of studios and a space to work in. Now, laughs Shetty, some do not need a studio, so old fashioned!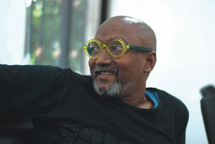 Krishnamachari BoseNext Macwan spoke to Bose of JJ, a self-contained world, unaffected by contemporary art or even the outside world. Bose says the JJ artist's strength lay in great basics, skills like drawing, careful art, and craftsmanship. Bose spoke only two languages: Malayalam and English and says, "the roots where I come from and the awareness that I had' (lay at the base of his inspiration). But Bombay, I never felt that I don't belong to the place at all'. He felt an intellectual vacuum after coming from that highly political, literate state, Kerala. However, he adds, senior artists were always welcoming: Shreshta, Barwe, Tyeb, Chabda, Atul (Dodiya), although "we were never born with the silver platter of the knowledge of contemporary art.... We needed to know contemporary art but we did not articulate that, there was nobody to help us articulate ... and JJ was obsessed with abstraction." He remembers the traditional late night hanging out, "We were not drunkards, not into drugs, but we had this drug of art in our blood all the time. We were addicted to the art world and its moments." He said, "1989 was amazing, with the Swaminathan project, historical, for in a huge way, timeless art was displayed." As a teacher, he said, "When I asked students for the names of 10 contemporary Indian artists, they could only come up with Husain. Not even Prabhakar Kolte who was teaching in the college." Bose said his own work originates from the street: "Life taught me that knowledge lies on the street, the absurdity of impermanence, and to know the other side, not just yourself."


Tree on campusBose reiterated, "I don't want to be a Buddha, enlightened, with no need of a second enlightenment and nowhere to go (when) you can leave everything aside and you can die - but I don't want to. I always keep dissatisfaction in my work. If you are trying to be a perfectionist, there is no such thing as perfection. So I like to keep a questioning, a void." (Perhaps he does not know of the ever new bubble of delight that enlightenment brings!)
"Anything you do can be an art, it is how you bring something to it."
"Five years of roots", Bose said, for JJ was the village and the city was where he drew new thoughts. "Culture is always brought by migrants. I never felt insecure in Mumbai, no bars like, say, the color bar abroad. It was already my home."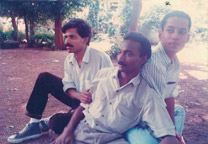 Kapse, Bose and JuliusMacwan replied, "A brilliant way to understand JJ: the village, the city, the trade-offs, the migrants, the balance between change and permanence."
"Artists are beautiful people you know, those we met in Bombay were real. They may not have had exposure to the west but they had each other and loved it. They spoke of not having studios, money, homes, rent... no information technology, no books, just a simple library, no Artforum (magazine). They used to buy year-old magazines cheaply from scrap stores." Bose remembered artist Owais Husain, pressing out paints from huge tubes when another student, Kapse, remarked, 'That is Rs. 2000, that is Rs.3000.' We could not think of using so much paint."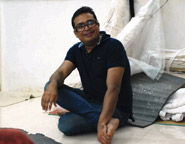 Jitish KallatNext Macwan spoke to Jitish Kallat, who said, "Art came naturally to you, Julius, but Bose worked really hard. Bose was our antenna to the outside." Jitish was suburban and said no one from his family 'knew art'. A yearning, a blind yearning was what he had, from seeing newspaper clippings and advertisements and responding to those artists. "Bose works so hard, even after burning his fingers with acid, he continues." He remembers encouragement from Kolte, remembers it even now. (So, even words in passing can matter so much!) "Kolte has this tremendous power to inspire." Finally in Kallat's times, a few Indian artists had actually seen Oldenburg's or Rauschenberg's work. TV was there, he says, like going into cracked walls, graffiti, figures. "There was written text, there was the possibility of sounds, completely crazy and meaningless and absurd - all came out of this possibility that TV provided and that I would think of as my parallel universe." Kallat also had access to Sanjana Kapoor's marvelous Prithvi theatre and the NCPA, which invited artists to talk and demonstrate.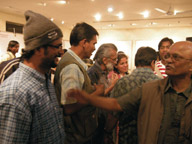 Tadka & Kolte in NagpurMacwan replied that JJ and its history were so overwhelming in his own cultural environment, "there was nothing else." In his time, there were movies and Doordarshan, (government TV).




Painting by Ramdas TadkaJulius Macwan's friend, Ramdas Tadka was a promising student and very energetic. Finances came in the way of his being an artist and he was forced to work at odd jobs. Later he became an art professor and returned to his loved art and teaching. He was dedicated and demanded discipline and students really appreciated this. He came for one final Ganpati festival to Mumbai and heard that his battle with cancer was over, that he had lost. He strove to get as much time as possible, knowing it had already run out.
This book and the accompanying exhibition, 'The Absent Weaver' are works of love, friendship and memory for, a friend is someone who likes you.


The book cover'The Other JJs', in memory of Ramdas Tadka by Julius Macwan: Conversations with Sudarshan Shetty, Bose Krishnamachari and Jitish Kallat.
Published by The Julius Macwan Institute, Mumbai, 2011
-----------------------------------------------------------------------

* Sir JJ School of Art in Mumbai with its one square kilometer campus was built after India fought for independence in1857 and lost. Roger Fry publicly declared there was nothing of value in several thousand years of Bharat's art. The British built this as a part of the Empire's great civilizing mission, (or deep thorough destruction), in a country which has had art and architects since time began and where vastu shastra and shilpa shastra treatises were used for centuries.
Sir Jamsetjee Jeejeebhoy made money shipping goods to China for the British, who did not want to be tainted with the opium themselves but thrived on its profits. The profits were excellent and the British asked him to donate Rs.100,000 (approximately $ 2000) to build a British art college to teach Indians proper art and bring them nearer to the level of British artists and architects. Today the continued teaching in English hampers many talented students, and, dare one say, professors. Years later, a furious young man named Mao burnt up all the opium shops and depots.