SHALU
Association
---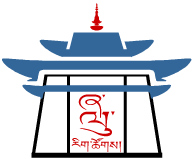 The Shalu Association is a not-for-profit organisation, founded in 1994. Our aim is to help protect the Cultural Heritage of Tibet and restore important sites, especially those in urgent need of conservation. Our activities in Tibet provide a rare opportunity to take part in preserving this unique and ancient civilization for all of mankind. During the first three years (1994-1996) we have concentrated on structural restoration in order to save fine buildings, such as the Namseling Manor or Rithang Monastery, or to save important early wall paintings and stucco images, as in the five monasteries of Drongkhar, Shalu, Gongkar, Drathang, and Yemar. Our projects in Rithang, Drongkhar and Yemar have been successfully completed.
FOR A COMPLETE LISTING OF OUR PROJECTS
CLICK HERE AND GO TO OUR PROJECT INDEX

This coming year we shall continue our projects in the three monasteries of Shalu, Drathang and Gongkar, whose wall paintings are amongst the finest and earliest in Tibet today. In the long term we hope to participate in their cleaning and restoration, and thus save them from further degradation. This will involve much research, documentation and training carried out under the guidance of specialists. We are at present funding a new gönkhang, or protectors' chapel, in Shalu, in order to save the unique early paintings in the oldest part of the monastery.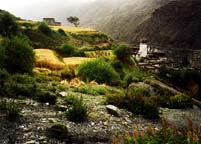 In 1996 we were able to visit the famous nine-storey tower built by Tibet's great yogi Milarepa, in Lhodrak, Southern Tibet. It is still standing, but the gilt copper roof was removed during the Cultural Revolution. This has led to water infiltration which is damaging the important wall paintings inside. Amongst them are the earliest images of Milarepa and his teacher Marpa, dating ca. 12th-13th c. We have promised to raise funds to put a new roof soon.



We are also preparing a project for the architectural restoration of the Lukhang Temple behind the Potala, with its superb and unique wall paintings belonging to the Dzogchen Yoga tradition. These are also menaced by water infiltration.


FOR A COMPLETE LISTING OF OUR PROJECTS
CLICK HERE AND GO TO OUR PROJECT INDEX
---