click on small images to view full screen with caption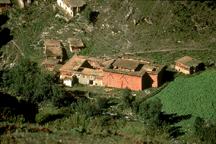 Baiya Monastery, as viewed from above
Tibet is currently undergoing a Buddhist revival, and Tibetans are rebuilding thousands of damaged monasteries. However, because they lack knowledge of modern conservation techniques, they are often unable to preserve the ancient murals that adorn the walls of temple building. With old walls being torn down daily, a substantial fraction of Tibet's artistic heritage is in danger of being lost forever. To prevent this disaster, we have been bringing world-class conservators to the Tibetan plateau where they are both protecting murals and teaching young Tibetans how to preserve their own artistic heritage.

---
Background

Map showing location of project sites
Ganzi Tibetan Autonomous Prefecture, which lies in western Sichuan Province, is an extraordinary repository of traditional Tibetan architecture--every county has its own unique style of building. Moreover, many of Ganzi's Buddhist monasteries contain paintings which are done in local styles not found elsewhere on the Tibetan plateau or in the Buddhist world at large.
View on the way to Dege
In 1991 the China Exploration and Research Society conducted a survey of monasteries in Ganzi for the purpose of identifying candidates for architectural conservation The survey was sponsored by the Getty Grant Program, and conducted in cooperation with the Sichuan Nationalities Research Institute in Chengdu. Leading the team was CERS president Wong How Man; he was assisted by Belgian conservation architect Patrick Troch and by Tibetan scholar-architect Yang Jiaming. The primary goal of the expedition was architectural; yet they also observed the status of mural paintings in the monasteries.
Results of the survey, supplemented by the knowledge of Professor Yang, showed that hundreds of mural paintings have been lost during the last several decades. Moreover, the expertise required to save the few murals that remain is not found among the local population, and local governments are far too cash-strapped to consider bringing in outside experts. Yet both Tibetan and Chinese leaders of the area agree that these murals are an important part of the region's cultural patrimony, and should be preserved.

Walls of Baiya's upper gallery
Among the monasteries surveyed in 1991 was Baiya Monastery [Tibetan: Pewar Gonpa], a small, remote Sakya Sect monastery that contains 270-year-old murals painted in the unique Ga style. According to Tibetan scholar Yang Jiaming, the Ga school is relatively new, having arose in the 15th century, and incorporates certain elements of Chinese painting technique within Tibetan art.
Following expansion of the Ga school, in the 17th century several Ga masters appeared in Dege. Palpung Monastery in Dege became a great center of Ga teaching, although today Palpung retains not a single original mural from that era. The Dege Printing House had paintings by Ga masters, but many of these were destroyed during the Cultural Revolution when chemical fertilizer was stored in the building, or later on during the course of reconstruction. Hence, Baiya's murals are rare and exemplory survivors of the days when the Ga style reached its apex. Because of this, and because of Dege's long tradition of fine painting, Baiya Monastery was chosen to be a training ground for a new corps of young Tibetan conservators.
---

A mural on Baiya's ground floor
Program
Any plan for saving Baiya's murals must consider the building that contains them. Because of neglect, water penetration, and earthquake damage, the 1991 survey team found Baiya's main assembly hall in a very grave condition. A subsequent earthquake in 1993 further imperiled the monastery and the art treasures housed within. Beams and columns were rotten on the inside, and threatened to cave in at any moment. Repeated additions of clay to the roof in an attempt to keep out rain had further overstressed load-bearing timbers. The outer rammed-earth walls were bowing and needed reinforcement. Run-off from the hill above posed a further danger to the walls. Despite the efforts of the gonpa's chief religious authority, Baiya Rinpoche, they simply could not raise enough funds to stave off the building's impending collapse.
If structural problems are not solved, obviously there is no point in trying to save the murals. Consequently, a local builder, Xiong Xiong, was hired to oversee repairs to the building in coordination with the art conservation program.
---

Water damaged mural of Baiya's upper gallery
Future Art Conservation Works
In 1998, as conservation and reconstruction work was being completed at Baiya Monastery, management of the program was assumed by the US-based Kham Aid Foundation. This organization was founded by the program's executive director Pamela Logan expressly to continue art conservation in eastern Tibet--other types of aid are also being offered to Tibetans of the eastern plateau. Under the leadership of KAF, plans are currently in development for our art conservation apprentices to continue their training at other monasteries. Furthermore a one-month course in thanka conservation will be held in Kangding 1999, taught by conservator Karen Yager.


---