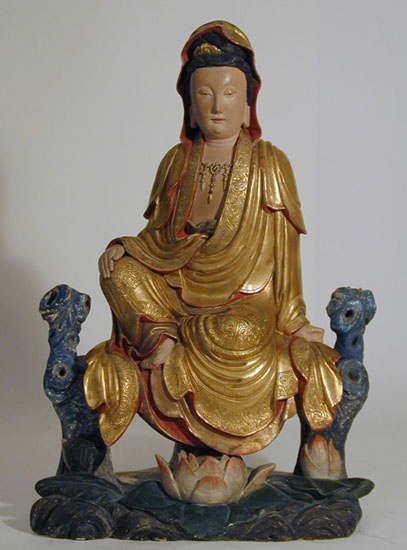 Chinese Stucco Figure of Guanyin
China
17th-18th c.
stucco
Height: 13 inches (33 cms)
A delightful image of the goddess of mercy, exquistely modelled from stucco (a mixture of plaster and straw or other organic material). Guanyin is seated in the position of Royal Ease on a rustic platform above a lotus pond.
The hair is dressed into an elaborate chignon, with a ruyi head diadem and covered with a cape falling over the shoulders. The long loose gilt robes are decorated with rasied line lotus roundels and scrolling lotus borders.
Numerous examples of the manifestations of Guanyin modelled in stucco and dated to the Ming dynasty are illustrated in Buddhist Sculpture of Shaanxi Province, Nos. 123-137, although none as fine as the present example