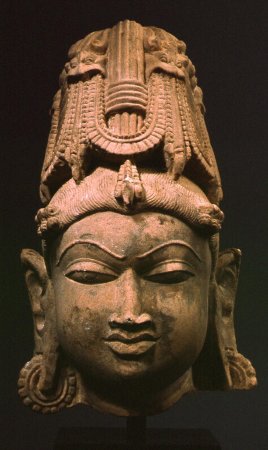 Head of a Deity, Probably Shiva
India, Uttar Pradesh
10 - 11th century
Pink sandstone
33 cm, 13 ins.
A magnificent large pink sandstone head of a deity, probably Shiva with an elaborate jatamukata (crown of piled matted hair).
The elaborate jatamukata of this head suggests that it is affiliated with the Hindu God Shiva, although Shiva's third eye - a standard iconographic feature- is not represented here. The lions that adorn the deity's hair connote the sculpture's royal affiliation and symbolic importance. The sculpture, which is meticulously rendered, pays great attention to detail. The perfectly preserved jatamukata attests to its craftsmanship as do the tendril-like curves of its brow and the petal smooth modelling of the face.
For a related example in the Museum für Indische Kunst, Berlin, please see catalogue no. 48 in Doshi, S. (ed.), Treasures of Indian Art: Germany's Tribute to India's Cultural Heritage, New Delhi: National Museum, 1998.