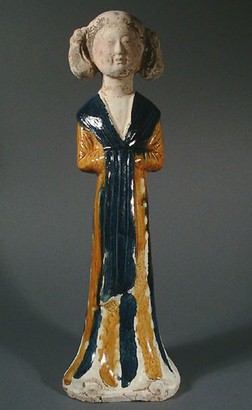 Sancai figure of a Court Lady
Tang Dynasty (618 - 907)
Height: 13 3/4 in; 35 cm
A rare sancai with blue glaze court lady , her hair braided in 2 loops on each side. The shawl elegantly flowing over her shoulders and held up by her hands in front of her. This very rare figure belongs to a small group of female court figures with unusually large, round faces, rather than the usual oval faces found on most court ladies. Many of these figures wear similar styled dresses and shawls and all have a rather demure demeanor.
A figure of this type illustrated in: Miho Museum. South Wing, Japan 1997,pp.262-263, has a hairstyle described as "twin-fork bun", which was extremely popular "among young unmarried Tang women".
Oxford Thermoluminescence test available.
ref.#4450 Literature: National Treasure Collection of Rare Cultural relics of Shaanxi province, 1998 :p.128 for a related figure without the blue glaze, unearthed from the tomb of Prince Jiiemin-Li-Chongjun in Fuping county 1995, Collection of Shaanxi Archaeological Research Institute
Condition: no restorations