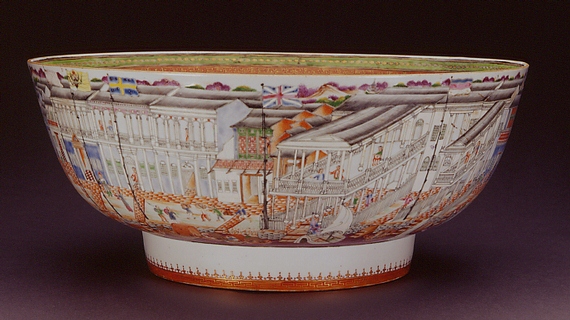 A Punch Bowl
Qianlong, circa 1785
European Market
Diameter 14 ½ inches (36 cm)
A Chinese export punch bowl with a continuous scene of the thirteen European factories (or Hongs) of Canton, starting and ending with a brief panorama of hills and water. The shoreline is crowded with Chinese 'chop' boats and many Europeans fill the courtyards in front of the factories, the balconies, the doorways and the windows. The bowl also depicts flying flags in front of six of them - those of Denmark, France, Brazil, Sweden, England and Holland. The foot is decorated with keyfret and spearhead borders.
The flags and the border of the foot dates this bowl to about 1785, as there is a United States flags on the slightly later ones and the French had left Canton by 1802. These so called 'Hong' bowls had been made from about 1764, initially with a view in a single panel, later to be followed by two panels and from circa 1780 with a continuous scene.
The Hongs at Canton were groups of Chinese-built wood and brick buildings that served the foreign traders as residences, offices and warehouses. Together they stretched along about a thousand feet of the Pearl River at the southwest edge of the city. In the beginning the Hongs were simple boxlike buildings, but in the course of the 18th century they became more and more elaborate and westernised architecturally. It was probably after a fire in 1743 where over 150 houses in the area was burned down, that the rebuilt structures got the appearance seen on China trade bowls such as this.