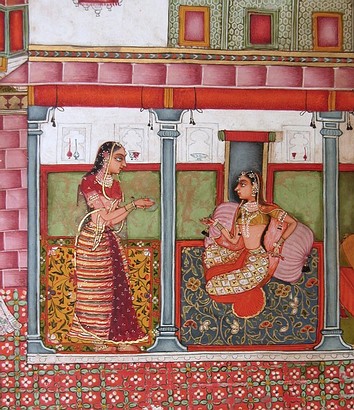 A Scene from an Illustrated Rasikapriya Series:
Krishna Steals the Butterpot Bundi
ca. 1680
Opaque watercolour on paper, 352 by 250 mm., with original red borders, the top panel with three lines of Hindi text numbered 18, the inscriptions 'second, eight' and '17' appearing in the top margins.
As the marginal numbers indicate, this robustly painted scene is derived from the second chapter, verse 18, of Keshavadasa's treatise on love, the Rasikapriya. The epiosde in question illustrated here depicts the author's example of a 'hidden brazen nayaka (male ideal lover)', which in this case is personified as the god Krishna. We see Krishna sneaking off to the left of picture while the seated nayika, Radha, and one of her handmaidens remain in conversation. Krishna has made off with the butter pot, a childhood temptation which even now the mischievous adult god has been unable to overcome. Though grown up, Krishna was reputed to steal the occasional handful of curd from a jar carried by a passing cowherd girl. In short, Krishna here exemplifies a deceitful lover, one who outwardly professes devotion to his beloved and yet secretly is scheming some kind of wrong-doing.
K.P Bahadur in Rasikapriya of Keshavadasa, Delhi, 1972, p. 18, translates this verse as follows:
Who steals the pots with butter filled
Not counting curd and milk; who smiles
When he is cursed, and when forbid
Does come as if one him invites?
What more should I speak of his name?
All virtues of him long have died;
Friend! Shri Krishna is of all the bane,
And who shall for him make reply?
Two other pages from this series are illustrated in J. Bautze, Lotosmond und Lowenritt, Stuttgart, 1991, pp. 144-47. Other pages from this series are in the Bimel Collection, the Cincinnati Museum, the Kansas City Museum, the Chicago Art Institute, the LA County Museum, and the Metropolitan Museum of Art. Similarly, a page formerly in the Huyck Collection sold at Sotheby's New York, 22 March 2002, lot 18.