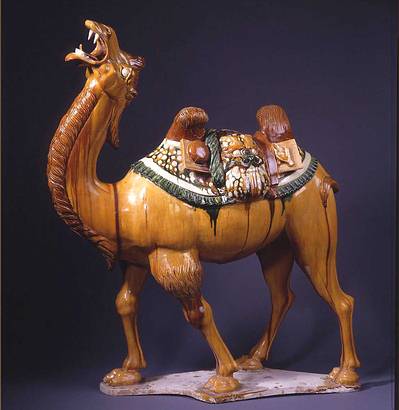 A Tang dynasty sancai glazed earthenware, striding camel
8th century,
China
Height: 33" / 83.7 cm
Width: 29" / 73.5 cm
The neck is arched up and the head is raised - with open mouth, and bearing its teeth. The body is ochre/brown, and over the two humps on its back is a sancai (three-colour) glazed saddlecloth of spotted design with a green fringe. The beast is fully laden - a saddle bag over each flank, protected by a cover with masks at each end, and blankets to the front and back - one twisted the other folded flat. Under each bag runs a flat board onto which provisions are suspended - on one side a loaf of bread and a side of meat, on the other two flasks.
cf: Avery Brundage Collection, San Francisco, 'Chinese, Japanese and Korean Sculpture' - plate 101.