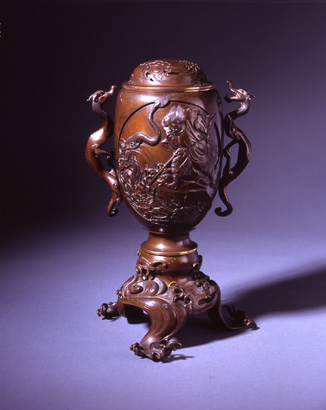 Bronze Incense Burner on Stand
Japan Meiji period. (1868-1911)
Signed: Hokugaku II Yokoyama Yazaemon Takasumi (1845-1903)
Extremely finely worked incense burner with swirling wave design to the cover, to gold inlaid bands. The main body, two chiselled cartouches, one with Susano-o No Mikoto, offering sake to a dragon. The other, with a kneeling Princess. Fitted into a swirling wave base with inlaid gold and silver water drops.
Note: Susano-o No worshipped as ruler of the sea and the tide and the moon, is often shown killing a threatening dragon, by making the brute drink jars of sake. He was born in Kanazawa (his father was a goldsmith Hokugaku Yokoyama Yazaemon Takeshige) and he then moved to Takaoka around 1868. He was commissioned by the government to produce a piece (or some pieces) to exhibit at the 1873 Vienna Exhibition. He also won awards in 1876 Philadelphia Exhibition, 1877 and 1881 Domestic Exhibitions and was known as a leading metalwork artist of the early Meiji period. The vase which was exhibited in Vienna is now in the Tokyo National Museum and a Koro is in Takaoka City Museum.