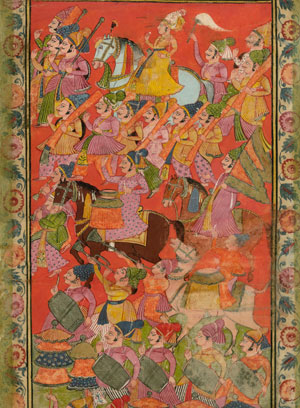 Details from a Jain Invitation Scroll (vijnaptipatra)
Sirohi, c. 1760
29 cm wide, 8.22 metres long
Invitation rolls such as this one were sent by Jain communities to monks, inviting them to spend the four months of the rainy season (June – September) with them. This example was certainly painted in Sirohi by the same artist who produced another scroll, a portion of which is now in the Spencer collection in the New York Public Library (Pratapraditya Pal, Jain Art from India, Los Angeles, 1994, cat. no, 116, pp. 85 & 251). These details show a procession of elephants, dignitaries, musicians and attendants, which was presumably intended to act as an enticement to the monk, giving him an idea of the sort of reception he might expect to meet.