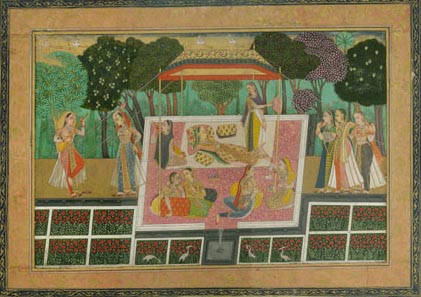 Princess Asleep in a Pleasure Garden
Deccan, Hyderabad, 1700-1750
7 4/5 x 12 ins (20 x 31 cms); album page: 11 x 18 ins (28 x 45.75 cms)
opaque watercolour and gold on paper laid down on card
An inscription in the top left corner identifies the slumbering princess at the centre of this painting as Zib al-Nisa' Begum, the daughter of the Mughal Emperor Aurangzeb. While the princess lies, stretched out beneath a canopy, attendants and companions play music, dance and carouse around her. The figure on the right, with her sleepy expression and arms draped around the shoulders of her two companions, is particularly effective in conveying the languor of the scene. Man and nature are show to be at harmony in the painting: the playful herons flitting through the sky and the storks strolling through the dense beds of roses mirror the light-hearted nature of the main action.
Both the sensuous subject matter and delicate palette of mauve, lilac, green and white are typical of Hyderabadi painting of the first half of the eighteenth century. Mark Zebrowski, with reference to this painting, has attributed the popularity of such lyrical scenes in the period to a desire to escape from the harsh political realities of the day. In contrast to the rather indolent depiction of her here, Zib al- Nisa'Begum in fact lead a remarkable life: a poetess, calligrapher and patron of the arts, in 1702-3 she ended her life in prison after being implicated in a plot against her father, Aurangzib. An inscription on the right hand margin also reads 'Zib al-Nisa' Begum'.
This enchanting vision of cultivated leisure set in a luxuriant garden exists in earlier Deccani painting, such as the miniature of Sultan Ali Adil Shah II with a courtesan painted at Bijapur around 1660-1670.
On the reverse of the painting is a sixteenth- or seventeenth-century calligraphy page bearing the following verses in Persian:
'Oh Khusraw, Jam of Authority, Suleiman of Power
Thanks to your justice the world has become Paradise
The orbit of the spheres is now complete, oh Lord
For under your signet everything lies prostrate'
Provenance
Archer collection
Literature
Lee, S. & Archer, W.G. 'Romance and Poetry in Indian Paintings' Wildenstein exhibition London 1965, no 10
Zebrowski, M. 'Deccani Painting' 1983, no 225, p252