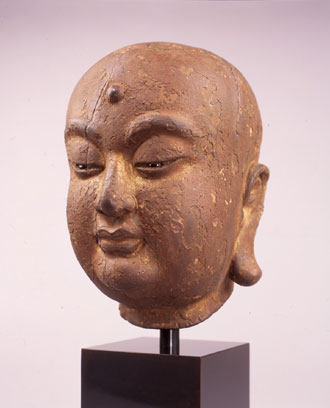 Wood head of a Lohan
China, Song or Yuan dynasty, 13th – 14th century
Height: 11 inches, 28 cm
A wood head of a Lohan, carved with life-like features, including pronounced Cupid's bow lips, a strong nose, long-lobed ears and elegantly sloping eyelids. The pupils of the eyes are inlaid in glass. On the forehead, between the distinctly arched eyebrows is a small protrusion, indicating the third eye of spiritual vision. The head is covered in a, now fragmentary, layer of reddish lacquer that shows the remains of gilding, mainly in the crevasses. A number of age-cracks are visible in the wood.