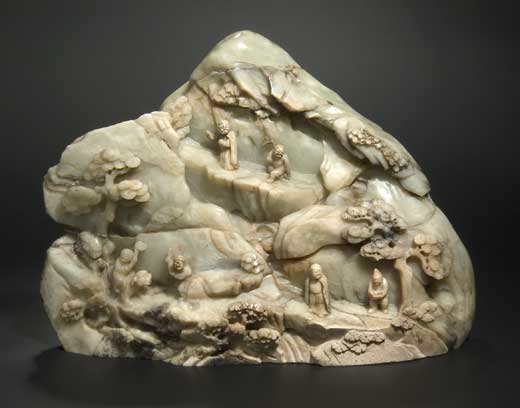 A rare, massive jade boulder
18th century
Length: 13 in, 33 cm
worked, using the natural shape of the boulder, in deep relief in the form of a mountain, scattered with wutong, pine trees and other vegetation, through which a waterfall flows. Six non Han-Chinese males, all with curly hair, large eyes, big noses and strong chins, are worked on the front of the mountain: one rides a lion-like beast and holds a sceptre, one leans against a rocky ledge swinging a club in both hands, two climb a high ledge, and one stands on a lower ledge in front of the sixth who wears a peaked hat and tunic and carries a basket filled with small jade boulders. The reverse shows a similar landscape with two deer. The jade is a mottled celadon-green tone with some "burnt" areas; the natural flaws have been highlighted by the craftsman to form part of the design.
Such boulders depicting the collection of jade from mountains are extremely rare. During the reign of the Qianlong Emperor territories to the west of China, which included modern Xinjiang, were conquered by the Qing, and nephrite from these mainly Muslim lands was sent to the imperial court. It is interesting to note the two different types of figure on our boulder: those with curly hair and bulging eyes, and the man with a peaked hat who has been identified in several publications as being Muslim.
For a detailed essay on jade production during the reign of the Qianlong Emperor, see Finlay, The Chinese Collection: selected works from the Norton Museum of Art, pp. 65–8, and note in particular, fig. 7, a boulder in the National Palace Museum depicting Muslims gathering jade. This boulder is also illustrated in Chang, The Refined Taste of the Emperor: Special Exhibition of Archaic and Pictorial Jades of the Ch'ing Court, no. 51, pp. 164–5. Another boulder showing Muslims collecting jade, with a Qianlong poem to the reverse, is illustrated in Jadeware (III): The Complete Collection of Treasures of the Palace Museum, no. 79, p. 98. Note also Watt, Chinese Jades from Han to Ch'ing, no. 1, p. 34, for a curly-haired figure holding a jade boulder, and no. 92, p. 108, for a peaked-hat tribute bearer with a dog.