Previous Image | London: the fall season | Next Image
Knapton Rasti Asian Art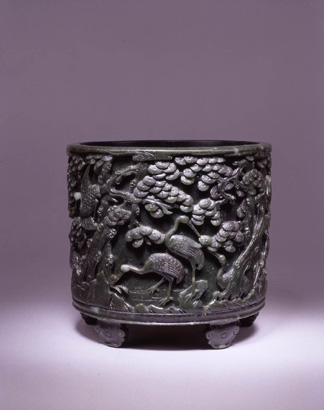 A large spinach green jade brushpot
China, Qianlong (1736-95).
6.5/8ins (16.8cms) high
7.1/8ins (18.1cms) diameter.
Carved in deep relief with eight cranes in a forest of pine and banyan trees issuing from rockwork below clouds.
Provenance : property of an American collector acquired from the family of a prominent New York philanthropist, who had purchased the piece from Herbet G.Squiers (1859-1911), a son-in-law (by his first marriage) of William G. Fargo. Mr Squiers was First Secretary of the American Legation in Peking from 1898 to 1902. He had acquired the brushpot during the time of the Boxer Rebellion in 1900-01. He returned to New York with a large collection of art objects from China.

all text & images © Knapton Rasti Asian Art

Previous Image | London: the fall season | Next Image