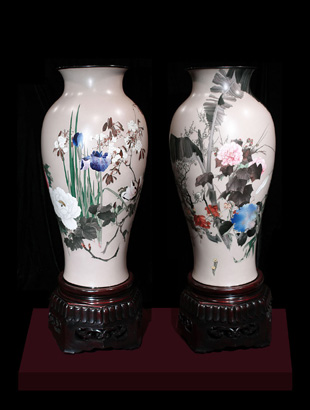 A unique pair of monumental Japanese shippo (enamel) vases
Decorated in varied techniques with a profusion of life-size flowers of conflicting seasons. One vase depicts a banana palm, grapevine, peony, hydrangea, two species of lily and poppy, paulownia, wild and cultivated chrysanthemums, pinks and winter flowering cherry; the other has a different design of flowering wistaria, cherry, peony, magnolia, camellia and iris.
The vases are the masterwork of the leading Meiji enameller Namikawa Sosuke, traditionally credited as the inventor of the ground-breaking musen shippo (wireless enamel) technique seen here. In point of fact, despite his ability to control colours without the use of visible cloison wires, he often continued to use them in differing metals to enliven a design and accentuate certain outlines. His achievement was to imitate brush-painting in enamels, particularly successful here in the banana leaves and iris flowers which have the quality respectively of broadly brushed strokes of ink and mottled watercolour. According to his own account, Namikawa Sosuke took five years to make these vases for the Chicago Great Columbian Exposition of 1893.
Published: S. Namikawa, Inventor of Cloisonné without Wires …, circa 1896, pp.17-18, each vase with a full-page illustration, given more prominence than any other work by the master.
Each vase stands 1.063 metres (41? inches) tall, 1.4 metres (55 inches) on its original wood stand with revolving platform.