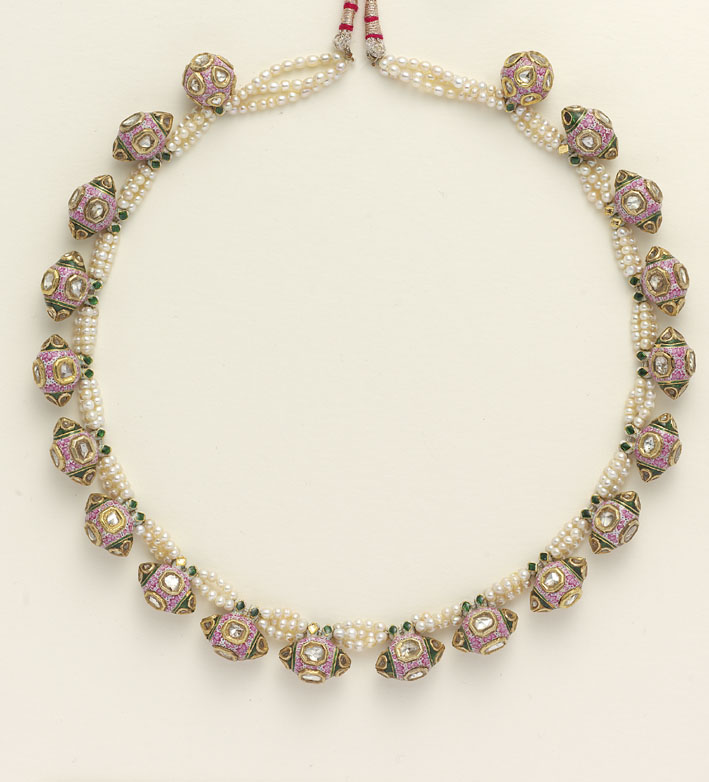 Necklace
Mughal or Deccan, India
18th century
Overall Length: 22cm
Length of dolki bead: 2cm
Width of dolki bead: 1.9cm
A rare and unusual necklace of eighteen drum-shaped beads (dolkis), gold set with diamonds and enamelled. The drum-shaped beads or dolkis are suspended on three entwined strings of natural pearls, which on either side terminate with perfectly rounded beads, enamelled and set with diamonds. Each dolki is very finely enamelled with minute lotus motifs in pink on a background of white speckled with blue. On either side of each dolki bead is a band of dark green enamel kundan set with paan or leaf-shaped diamonds. The centre of each dolki is set with three slightly faceted and table-cut diamonds in an octagonal setting using the same kundan technique. The two round beads on either end have the same lotus motifs in pink enamel. These lotus motifs are very reminiscent of the Krishangarh miniature painting of this period. Although pink enamel (gulabi mina) is seen as the hallmark of the Benares tradition and is also distinctive of Lucknow this particular necklace features a far more delicate, very light rose colour, like the pastel shades associated with the highly developed schools of enamel of Europe. The Indian jewellers having learnt the art of enamelling from European masters, and not the Persians as Iran had no enamelling tradition at all, perfected their skills and raised enamelling to an art form of great distinction. The excellence and inventiveness of Indian jewellers in the art of enamelling is showcased in this necklace. It is very difficult to find a complete necklace of dolkis as they were usually taken apart or lost over a period of time.
See Manuel Keene with Salam Kaoukji, Treasury of the World, Jewelled Arts of India in the Age of the Mughals, pp62-85.