Previous Image | London: the fall season | Next Image
A&J Speelman Ltd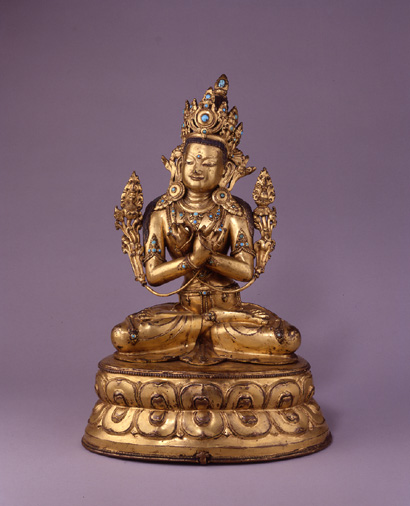 A gilt bronze figure of Vajradara
Tibet
14th century
Height: 16 ¼" / 41.2 cm.
The figure is seated in the lotus position upon an oval double lotus base with broad leaves. The hands are held level with the chest in Dharmachkra, the teaching gesture. Each hand holds the stem of a lotus plant - the flowers blossoming at the shoulders - one bearing a ghanta bell, and the other a vajra. Vajradara is dressed in a dhoti that covers his legs - leaving the up turned feet exposed. His bare torso is adorned with jewellery inlaid with turquoise stones - as are the armbands and the elaborate seven pronged crown. The head is turned slightly up and to the right - a half smile on the serene face; large circular earrings with floral pendants are suspended from his elongated earlobes.
all text & images © A&J Speelman Ltd

Previous Image | London: the fall season | Next Image