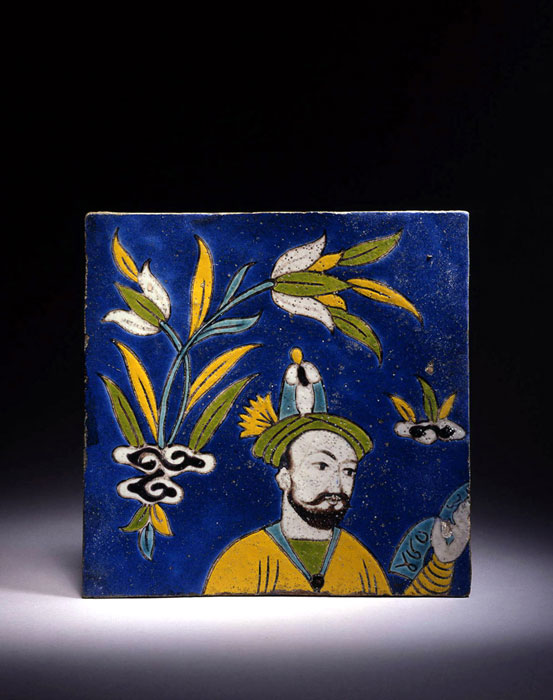 BEARDED COURTIER
Iran (Safavid), 17th century
Height: 23.9 cm
Width: 24 cm
An underglazed polychrome tile in the cuerda seca technique, in vibrant colours of blue, turquoise, green, yellow and white, depicting a bearded courtier surrounded by stylised floral sprays against a cobalt ground.
The figure faces right with his left hand held up, clutching a turquoise bow which he seems to be inspecting. He is smartly dressed in a bright yellow tunic, with a turquoise collar, worn over an apple green undergarment. His face is white with a well trimmed beard and flowing moustache, and he wears a decorative conical shaped hat, with vertical turquoise stripes and a yellow finial to the point, above an apple green brim. A single large yellow flower sticks out at an angle from the left side.
To the rich blue ground are two chinoiserie style rock formations, with leafy floral sprays of white, black, yellow and green that appear to float in the space surrounding the courtier. The larger spray to the left arches over him, the turquoise stems bending under the weight of the flowers. The cobalt ground makes the sky appear as if the scene is at nighttime, though this is not certain.