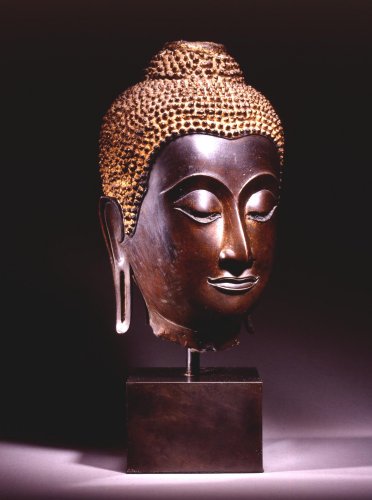 Bronze Head of Buddha
Thailand; Sukhothai style, post-classic period, Kamphaeng Phet
15th c.
bronze
H. 37 CMS, 14 ½ INS
A magnificent bronze head of the Buddha, the eyes half closed in mediation, the rimmed mouth with cushiony lips set in a gentle smile, the earlobes long and slender; with extensive traces of gilding throughout.
Thais regard the Sukhothai period as a 'golden age' and images like this one represent the pinnacle of Thai artistic achievement. In his paper entitled An Appreciation of Sukhothai Art (Bangkok: Fine Arts Department, 1962), Professor Silpa Bhirasri describes the spiritual power of Sukhothai period sculptures:
"Their creations seem to master the tumult of human passions, and the faint smile tells us of happiness and peace gained by subduing the earthly and primordial instincts".
The great Phra Buddha Jinnarat from Wat Phra Si Ratana Mahathat, Phitsanulok, one of the most revered images in Thailand, is a sublime example of the late Sukhothai type – see page 112 in S. Van Beek and L. Tettoni, The Arts Of Thailand, Hong Kong: Periplus Editions, 2000. For a fine example of a Kamphaeng Phet Buddha head in the Bangkok National Museum, see page 115 (ibid.).
PROVENANCE:
From the Estate of a private English collector. Purchased in 1968 from Monogram Antiques, Bangkok, for £458.