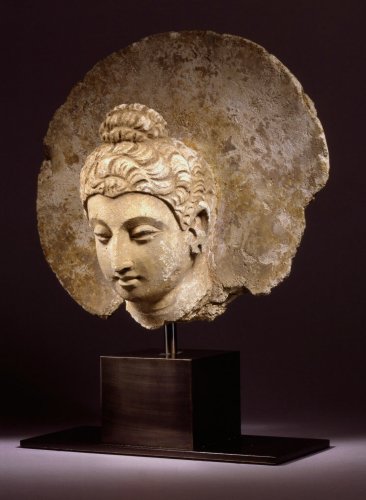 Stucco Head of Buddha
Northwest Pakistan or Afghanistan
Gandhara
4th - 5th c.
stucco
H. 23 CMS, 9 INS
A graceful, serene white stucco head of the Buddha, the eyes downcast in meditation and the mouth set with a gentle half smile beneath an aquiline nose, the hair rising in waves to a bun-shaped usnisha, a large circular nimbus behind; traces of pigments remaining.
The use of stucco and terracotta as a substitute for the grey schist of many early Gandhara sculptures led to a greater freedom of expression and innovation. Perhaps the finest of all the many examples of stucco Buddha heads is the one in the Victoria and Albert Museum. Widely published and admired, it is variously ascribed to either Hadda or Taxila - see catalogue no. 120 in Stanislaw Czuma, Kushan Sculpture: Images from early India, Cleveland Museum of Art, 1985.
PROVENANCE:
From the collection of the former Yugoslavian ambassador to Pakistan. Acquired during his service between 1967 and 1971.