previous image | body.city exhibition | next image

Subhash Chandra Bose offering his head to Bharat Mata in the presence of Krishna
All the figures except that of Krishna are cut out from a print titled 'Subhash Balidan' (Self-sacrifice of Subhash).
The figure of Krishna is from an unknown print.
The figures are collaged over a Nathadwara painting.
c.1940s.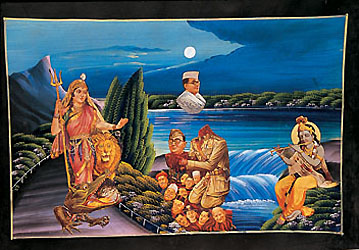 © Private collection, New Delhi
---