Chang Dai-chien: A California Reintroduction
by Mark Johnson
Associate Professor of Art/Gallery Director
San Francisco State University
Introduction for the catalog for the exhibition Chang Dai-chien in California, on view at SFSU September 26 - November 20, 1999 (c) Mark Johnson and San Francisco State University

Unquestionably one of the most important Chinese painters of the Twentieth Century, Chang Daichien has been compared to Picasso in many exhibition essays and catalogs. That analogy is often accompanied by evidence of their 'summit' in 1956 at Picasso's Mediterranean villa, La California, but is meant to more generally suggest the breadth of the artist's fame, unparalleled productivity and stylistic variety, and charismatic personality.1 Unique in the mastery of historical styles dating back to the 9th Century, reintroduction of brilliant color with painterly modeling, and grand synthesis of these traditions with aspects of Euro-American Impressionism and Abstract Expressionism, Chang Dai-chien is a singular giant of Chinese painting.
Yet even though the artist lived half of his career in the West and a decade in California, his work remains virtually unknown in the American artworld except in the Chinese American community and among scholars. This obscurity is especially surprising in light of the high visibility afforded Asian American artists including Isamu Noguchi, Chang Dai-chien's contemporary (1904-1988), and contemporary artist Hung Liu. Because ink painting is segregated academically and rarely presented in American museums, there is a widespread lack of familiarity about its traditions, aesthetics and practitioners. Perhaps as few non-Chinese can read inscriptions, rapid or casual appreciation is limited for many. James Cahill has written that Chinese paintings can appear "small and flat and hard to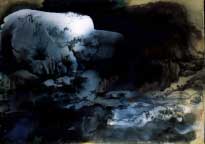 penetrate" to Westerners, in contrast with the seeming "forcefulness and immediacy" of European paintings; conversely, Cahill adds that Chinese painting experts sometimes complain about European painting lacking variety in brushwork.2 Chang Dai-chien felt quite differently, protesting "some people complain that Chinese landscapes are plain while the trees are flat. But this is absolutely false.3 Even though his work is resolutely rooted in Chinese painting traditions, Chang Dai-chien felt "there is no rigid line of demarcation between Chinese painting and Western painting," except perhaps "in the media and materials of the painter" and "in regional divergence in custom."4
This exhibition and publication aims to review the history and achievement of Chang Dai-chien in California. Innovations associated with this period are most evident in the artist's landscapes created between 1965 and 1970, and the current exhibition is most tightly focused around this genre. This exhibition also provides us with an opportunity to present a number of works created during this period which have never been exhibited or previously published. Any discussion of Chang Dai-chien's total oeuvre requires a complex evaluation of multiple Chinese historical artists and styles and is outside the scope of this brief introduction. But the context and circumstances of Chang Dai-chien's twenty-five year relationship to California, where the artist owned two homes and mounted more than a dozen solo shows5, has important implications for the understanding of Chinese culture in the United States, and to the documentation of the artist's most Western-looking artistic period.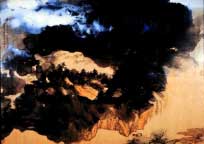 After establishing a major reputation in China, Chang Dai-chien emigrated to the West after the Communist Revolution in 1948. He traveled and exhibited extensively in Asia, Europe and South and North America, living in garden home/studios in both Brazil and California. He visited California as early as 1954/55, staying with a friend in Berkeley for a few days at a time during international stopovers. In the mid- 1960s, Chang Dai-chien and his wife Hsu Wen-po began 6 spending more time in California. Chang Dai-chien first exhibited in San Francisco in 19666, and his significant presence in Carmel in the fall of that year led to several invitations to return to present three solo exhibitions in Northern California in the summer of 1967. The move from the spectacular garden home/studio in Brazil where he had lived since 1954 was a gradual one; the artist spent increasing percentages of time in California throughout the remaining years of the Sixties. The artist professed his move was inspired by the distinctive pines of the Monterey peninsula, which reminded him of Chinese trees he had painted earlier in his career, and which became signifiers of this period and place in his painting (see Catalog X)7. Relocation was actually necessitated by the imminent flooding of his Brazil garden estate because of a dam project, which the artist nevertheless kept developing in seeming disregard for its impermanence. In 1969, several of Chang Dai-chien's children joined him in Carmel, shifting the center of his art activities to California.
In comparison to the extravagance of the Brazil acreage with its excavated lake and five

pavilions, Chang Dai-chien's California residences seemed 'barely habitable.' The artist and his wife initially stayed for months at a time at Thomas Chew's Dolores Lodge in Carmel, where they occupied a special cabin with a suite of rooms. He bestowed the name 'K'e-yi Chu' (translated as 'barely habitable' or 'just OK') on his first Carmel house which was purchased in 1968, and the garden pavilion (Catalog X) at his second home which he purchased in 197 1. The second house was located on the exclusive Seventeen Mile Drive and had a sandy yard large enough for him to develop a separate studio and a garden. The transformation of the sandy yard into an opulent garden became a daily preoccupation and passion. Chang once lost his shoes in the mud after running into an orchard to admire a tree, and caused consternation by asking if he could purchase and transplant fully grown trees from neighbors explaining that he was too old to wait for trees to grow from seedlings8. The garden eventually included an orchard of plum trees (metaphorically numbered at one hundred), scholar rocks collected in California and internationally (sometimes displayed on redwood stands, see Catalog X), unusual rock-like burls and tree snags, dozens of penjing or bonsai (see figure d), and a burial spot with headstone for his worn out brushes. The garden also included an outdoor gazebo, where the artist would sit at night, composing poems while watching the plums "bloom newly under the drizzle moon.9" The artist named this home 'Huanbi An,' or 'hut in the sticks' and it served as a kind of intellectual and cultural center -- full of poetry, parties, politics, recipes, international visitors and friends -- for the time that he lived there.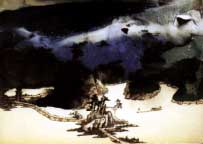 It should be acknowledged that Chang Dai-chien made his new home close to the Bay Area, the historical center of America's strongest Chinese art and emigre community, where the artist was surrounded by Chinese speaking friends and intellectuals who were already aware of his work. The artist's first California solo exhibition in 1967 at Stanford University attracted an opening reception crowd of a thousand which was so unprecedented that it frightened away the museum's volunteer docents10. Three thousand attended the November opening reception for the 1972 Asian Art Museum exhibition in San Francisco in spite of torrential rain, representing a tremendous community response for that institution's first ever exhibition of a living artist. A number of those in attendance at these exhibitions had known the artist earlier in life: Michael Sullivan who organized the Stanford retrospective had met Chang Dai-chien in Chengdu in the early 1940s (see figure e); Yvon d'Argence who conceived the Asian Art Museum exhibition had helped organize the Musee Cernuschi exhibition in Paris in the mid 1950s; renowned restaurateur Cecelia Chiang recalls the joy of being recognized by the artist and remembered by her Shanghai nickname at the Stanford opening, after a separation of nearly twenty years.11
In addition to Michael Sullivan at Stanford and James Cahill at U.C. Berkeley, the artist's California circle included a number of other college professors who were involved in Chinese culture. These include Pung- fi Tao from Foothill College, who traveled with the artist to Ann Arbor in 1967 to view the exhibition of a favorite Ming Dynasty literati painter Shi-tao, and many others from schools including San Jose and San Francisco State Universities. Friends from the University of the Pacific in Stockton arranged for Chang Dai-chien to be awarded an honorary doctorate in 1974 and hosted a major exhibition and related symposium there. Although Chang Dai-chien met a number of non-Chinese artists in California including Ansel Adams, his personal interaction was limited by language. He was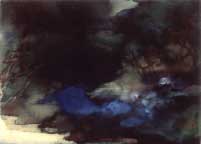 more personally involved with Chinese-speaking artists including noted Chinese photographer Long Ching-san who had established a "second home" with his children in San Francisco, and San Francisco painter Lim Ching-yee. The late 1960s were also watershed years for alternative culture in Northern California, and Chang Daichien was welcomed as an alternative cultural icon. Hippies presented flowers to the artist on several occasions; in 1969 Chang was suddenly surrounded by a group of young people who bestowed a lei of chrysanthemums and sat surrounding him to ask questions about Eastern philosophy.12
During these years, Chang Dai-chien established his primary California gallery relationship with Carmel dealer, Les Laky. Laky intersperced exhibitions of contemporary Chinese ink painters with exhibitions of California Impressionists, and is remembered for his integrity. Although the Laky Gallery had satellite spaces in both San Francisco and Los Angeles for a time, Chang Dai-chien only exhibited at the Carmel space, but these shows were promoted state-wide via the gallery's newsletter. The relationship with the Laky Gallery seems surprizing as it is some distance from the centers of California art collecting but the gallery played a significant role in the artist's career: a number of works in California public collections were originally purchased there13. In retrospect, the Laky exhibitions are especially significant because they introduced Chang Dai-chien's work to a non-Chinese audience in a non-Chinese context, and because they featured many of the artists most extreme explorations of abstract painting. The early Laky exhibitions included several Switzerland Series paintings which have no recognizable subject matter, in contrast with the museum exhibitions of the same period which favored more classical works. Chang Dai-chien also presented several museum and gallery exhibitions in Southern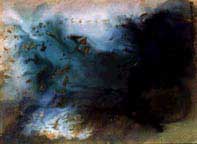 California beginning in 1969. Joan Ankrum recalls that the scarcity of available work at her Los Angeles gallery which presented two exhibitions in the 1970s was the limiting factor in sales; many of the paintings included in her exhibitions had already been gifted to the artist's friends. The artist's generosity to his friends is central to the understanding of his life during this period. Many works in California collections were gifts, many of which have such wonderful circumstances that the associated stories become a significant part of the artwork. This link between artwork and circumstance is central to the Chinese literati tradition, and Chang Dai-chien has generated an almost mythological cache of stories relating to the production of his paintings. Examples include his Chinese New Year parties where guest threw dice and the highest scores left with new work, and the many instances where Chang Dai-chien declined selling his work to his friends - but presented gifts even years later of the same painting that had originally aroused interest.
In spite of his beautiful home, good friends and significant exhibitions, Chang Dai-chien's years in California were not easy. Mao Tse-tung's 'Cultural Revolution' was begun in 1966, in which the red guard changed place and street names and ransacked bookstores and private homes, destroying or carting off paintings and books... Except briefly in 1972-1973, traditional landscapes, birds and flowers, and Impressionist oil paintings were alike forbidden.14
Chang Dai-chien's work was specifically targeted in the Cultural Revolution (see Catalog x) and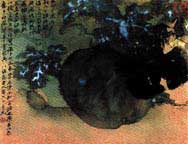 his family persecuted, further politicizing the artist and eventually leading to his second self-exile, from the United States, in the late 1970s. Although the artist did not make public political statements, Chang Dai-chien was not happy about Richard Nixon's overtures to the Peoples Republic of China, and he accepted Taiwan's invitation to establish a home there in 1976. He began building in Taiwan at a magnificent site at the fork of a river near the National Palace Museum in 1977. The artist spent decreasing amounts of time in Northern California through the balance of the Seventies, and never returned after Jimmy Carter broke off diplomatic relations with Taiwan in 1979. In addition, Chang Dai-chien was already in his late sixties when he relocated to California, and his eyesight was impaired by cataracts and diabetes. One of the artist's calligraphic seals carved in 1971 reads "paints from heart to hand," often interpreted to be underscoring the absence of eyesight in this equation. The artist attributed his late splashed ink style to his failing eyesight, although detailed work completed during and after that time mitigates that assertion. Chang Dai-chien underwent experimental eye surgery in New York in 1969 which actually worsened his eyesight in his right eye to 20/200, and laser surgery in San Francisco later that year effected no improvement; period photographs show the artist wearing eyeglasses with a darkened right lens. The surgery to remove his clouded left eye lens performed in 1972 by Emma Dong in Salinas restored 20/40 vision and the ability to see color in that eye, if only with thick eye glasses.15 Chang Dai-chien began painting a few months after these surgeries, and it is instructive to review the paintings created immediately after the trauma of these surgeries, which still evidence a strong hand and inventive sense of drawing.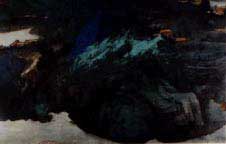 In spite of these difficulties, Chang Dai-chien produced some of his most powerful and innovative work during this period. In 1965, he produced a series of nearly completely non-objective paintings in his Brazil studio, some based on his trip with C.C. Wang to Switzerland (see Catalog x), which were the centerpiece of his first Laky exhibition. Debatably the richest and most dramatic splashed ink paintings date from the years of 1967 to 1969, which achieve the "forcefulness and immediacy" of the strongest Abstract Expressionist painters. These landscapes sometimes incorporate rich swaths of color including yellows and golds which were unprecedented in the artist's earlier landscapes, possibly reflecting California color and inspiration, although many of these pictures continue to relie on the blue-green associated with ancient Chinese landscape painting. These 'splashed color paintings' were often created in a traditional 'distemper' media of mineral pigment suspended in animal collagen glue and are more durable than the frequently employed misnomer label 'watercolor' implies. Although Chang Dai-chien reiterated that Tang Dynasty p'omo, or splashed ink, models were the inspiration for these works, there is clearly some Western influence at play. More than the often cited resemblance to concurrent international developments in Abstract Expressionism, these paintings evoke the tradition of Romanticism, and can be related to the Eighteenth Century atmospheric works of Turner and especially Victor Hugo (see figure X)16, whose ink blot drawings seem to embody Leonardo's famous encouragement to find new compositions in random stains. The noted Japanese-American artist/teacher Saburo Hasegawa is recorded as saying that Chinese landscape paintings function as Buddhist ch'an teaching, as deeply instructive as Tibetan tankas and mandalas are in that parallel tradition.17 The passionate late- 1960s paintings by Chang Dai-chien seem far removed from expectations of Buddhist detachment, but perhaps say a great deal about ch'an teaching of balance in a chaotic universe and the "formlessness underlying form" described by Lao-tsu.
Chang Dai-chien continued to create more traditional works in the style of Shi-tao (see Section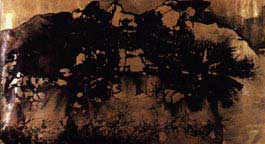 1) and others during this period, as well as huge handscrolls such as '10,000 Miles of the Yangzte River' and 'View of Huangshan Mountain,' although the larger scale and more densely pigmented works were painted in the Brazil studio during these years where the artist's most experienced mounting assistant provided crucial help during the painting process. Several landscapes painted during and after 1967 resemble California locations the cliffs of Big Sur and the hills of the Coastal Range. In an interview published in May 1970, Chang Dai-chien explained that he was "busily absorbing Carmel into his being and hope(d) to soon be able to paint Carmel in the Chinese manner."18 Although far from photographic and often including only portions of recognizable landscapes, the resemblance to California locations is an important aspect of Chang Dai- chien's paintings after 1967 (see Section X). Even the artist's late masterpiece, 'The Panorama of Mount Lu,' strongly recalls aspects of the granite cliffs and timberline vegetation of Yosemite and the Sierra range, which the artist visited on many occasions19, and might be in part related to the California landscape he absorbed. Chang Dai-chien loved traveling20 and visited many other locations in the Western United States, including Grand Canyon (which he admired but felt was not appropriate as a subject for painting21) and Mono Lake. The artist experimented with alternative media during his years in California, including painting on wood and fiberglass (see Catalog x), working with acrylic paint, and creating two suites of lithographs (see Catalog x). These dozen lithographs were printed at San Francisco's Editions Press, as part of a project organized by collector Wil Fountain. The artist also experimented with autobiographical writing and documenting aspects of his career during this period. A huge autobiographical scroll was completed in 1972 for exhibition at San Francisco's Asian Art Museum, and a bilingual book of poems, musings, and rather technical essays about painting edited by Edward H. Hsung was published in 1975. A major publication project with the National Museum of History of Taiwan, begun in the mid-1970s, eventually led to a seven volume set of books which included both reproductions and reprints of some of his essays.

The professional highlight of Chang Dai-chien's years in Northern California was the major retrospective presented in 1972 by the Asian Art Museum of San Francisco, which was later described in one account as "the greatest exhibition in Chinese history.22" That exhibition presented several mural scale works as part of the gathering of one work from each year of Chang Dai-chien's professional career, and its breadth has become the model for many of the subsequent exhibitions of his work. Noted San Francisco art critic Alfred Frankenstein reviewed the exhibition, and wrote very positively about the splashed ink works which seemed to him to be "both ancient and modem at once ... original and decidedly up to date." Frankenstein dismissed the artist's more traditional works, writing "one feels that Chang Dai-chien came into his own only when he shook off the weight of the ancient dynasties he had carried for so long on his shoulders." Frankenstein's review reads as thoughtful and informed, but ended on a note of suspicion about the artist's late works. He wrote that these works resemble a slightly drunken collaboration of Franz Kline and Hans Hofmann, with a few asides from Jackson Pollock and a splash or two from Adolf Gottleib(. We) are likely to respond with special delight because we know and appreciate the references. Perhaps, in other words, Chang Dai-chien hasn't been reborn at all; perhaps he has merely changed the field of his allusions.23
More recent American press about Chang Dai-chien has been preoccupied with only one aspect

of Chang Dai-chien's career: his relationship to forgery. The excellent 1991 retrospective at the Sackler Gallery of the Smithsonian Institution organized by Fu Shen generated a host of reviews which were narrowly centered around the issue of fakery. In 1998, the New Yorker Magazine completely erroneously labeled the artist's 1945 original masterpiece 'Tibetan Women and Mastiff a "fake,"24 and a 1999 article in the Washington Post Magazine entitled "The Master" Forger " quoted a description of the artist as "nefarious."25 Although the artist created, sold and publicly boasted about his "forgeries," the consideration of Chang Dai-chien's relationship to issues of identity, authorship and history is one of the most central and complex issues of his oeuvre (see Catalog x), representing his "high aesthetic game."26 These works simultaneously function as demonstrations of Chang Dai-chien's teaching and artistic philosophy. The myopic fixation on 'forgery' in the American press and total disregard for the artist's original achievement says more about our national psyche and its passion for scandal than demonstrating any understanding of the issues in Chang Dai- chien's art.

Although the towns of the Monterey Peninsula have became widely known as havens for golfers, movie stars, and tourists, Carmel and the central cost have a long history as an art colony. Many writers and countless visual artists were drawn to its sparking light and rugged coastal landscape. Chang Dai-chien can be related to the California Impressionists, Tonalists and f-64 photographers (see figure f; Catalog x) who worked there. His work can be placed in a lineage of Asian trained painters, many of whom remain more well known in their country of ancestry than adopted homeland; these include Chiura Obata, whose distinctive Asian American style depicting some of the same locations painted by Chang Dai-chien (see figure g) reminds us that both artists were influenced by the Nihonga movement (the modernization of historical styles) as young students in Japan.
Another California model for appreciating the American context for Chang Dai-chien is the artistic

activity of Diego Rivera and Frida Kahlo in California during the 1930s: their differences of language and dress similarly announced an immersion in different art historical and political pasts. Chang Dai-chien's influence may not be as immediately evident; indeed, few American art students have heard of a single Chinese ink painter, and California art histories include no mention of his life and work here. This erasure seems peculiar considering the art press Chang Dai-chien generated during the years he lived here27, but can be related to the drain of most of the artist's most important California period paintings to collections in Asia. Nevertheless it is important to acknowledge that, although he did not teach formally in America, Chang Dai-chien had many American students and disciplesv28. Chang Dai-chien is also the most important Chinese painter of this Century to demonstrate the vitality possible in a fusion of Eastern and Western traditions and approaches to painting. His blending of elements including iconography, themes and structures from Chinese art history with innovative contemporary ideas mark him as a precursor of international Postmodernism; yet, his emphatic Sino-centric foundation insists on the appreciation of his work within the context of Chinese art history. His career in California reminds us that a vast history of ink painters and other traditional artists enjoy a parallel audience and market in California, recorded in Chinese language records and existing generally outside of English speaking awareness. This suggests that art historians must expand the notion of California art to embrace Chinese traditional genres. The appreciation of Chang Dai-chien's achievement requires that we educate ourselves about the Asian art history which is the foundation of his innovations, and causes us to rethink what we know about American art. Chang Dai-chien's passion for rigorous training in drawing and pictorial composition have import for artists in any tradition, and his work appeals across the East/West "regional divergence of custom' 'that he personally eschewed. Perhaps the current interest in contemporary Chinese artists should begin by acknowledging Chang Dai-chien's unparalleled advancement of Chinese painting in America.
----------------------------|----------------------------
notes:
1 Several friends of the artist from the period use the work 'charismatic' to describe his personality, perhaps because, as Rene-Yvon Lefebvre de'Argence writes, in his 1973 ArtNews article, Chang Dai-chien lived into his seventies "with all the enthusiasm, curiosity and urge for daring experimentations that are usually associated with youth." (January 1973, page 62). [back]
2 Cahill, James, 'Approaches to Chinese Painting,' from Three Thousand Years of Chinese Painting' by Yang Xin, Richard Barnhart, Nie Chongzheng, James Cahill, Lang Shaojun and Wu Hung, Yale University Press, New Haven, 1997, page 5. [back]
3 Edward Hsung, ed., Chang Dai-chien. Essays on Painting, Chinese Art Gallery, Taipei, 1975, page 94. [back]
4 Hsung, Op. cit, page 61.[back]
5 Chang Dai-chien's solo or two-person exhibitions in California included:
1967 Stanford Art Museum, Stanford University, Palo Alto, Retrospective Laky Gallery, Carmel, Survey Chinese Art Gallery, San Francisco, exhibition for friends
1969 Cowie Gallery, Los Angeles, New Work
1970 Laky Gallery, Carmel, New Work
1972 Asian Art Museum, San Francisco, Retrospective Laky Gallery, Carmel, New Work
1973 Ankrurn Gallery, Los Angeles, New Work
Walton Gilbert Gallery, San Francisco (in association with Editions Press), Lithographs Town and Country Center, Palo Alto, with Paul Chang
1974 Santa Barbara Museum of Art, Santa Barbara, Survey Haggin Museum, Stockton, Survey Laky Gallery, Carmel, with Paul Chang
1975 Walton Gilbert Gallery, San Francisco (in association with Editions Press), Lithographs
1979 Ankrum Gallery, Los Angeles, with Paul Chang note: Monterey Peninsula Museum and Pacific Asia Museum exhibitions scheduled for that year were canceled when the artist permanently
moved to Taipei.
1983 Pacific Asia Museum, Pasadena, Survey
note: individual works were also exhibited at Far East Fine Art, San Francisco, and at the China Art Center, Carmel, as well as at several California museums during this period and subsequently.[back]
6 Chinese Art Gallery, group exhibition, summer 1966. [back]
7 Although Monterey Pines once blanketed the California coast, native stands had become rare by the time the artist arrived; the Monterey Peninsula stands are further threatened by development at the time of this writing, San Francisco Chronicle, 2/4/99, p.A-19. [back]
8 Johnson Chang, personal communication, February 28, 1999. [back]
9 Hsung, 012. cit, page 63. [back]
10 Michael Sullivan, personal communication, April 29, 1998. [back]
11 Cecelia Chiang, personal communication, July 20, 1998. [back]
12 Johnson Chang, personal communication, February 28, 1999. [back]
13 Chang Dai-chien's work is in the permanent collection of Asian Art Museum of San Francisco, San Francisco State University, the Berkeley Art Museum, the Stanford Art Museum, the Sun Yat Sen Memorial in Sacramento, the Haggin Museum in Stockton, the Monterey Peninsula Museum of Art, the Santa Barbara Museum of Art, the Los Angeles Country Museum of Art, the Pacific Asia Museum, and the San Diego Museum of Art. [back]
14 Michael Sullivan, Art and Artists of Twentieth Century China, University of California, Berkeley, page 152. [back]
15 Dr. Emma Dong, personal correspondence, August 1998. [back]
16 the author withes to thank Larry Rinder for suggesting the relationship to Victor Hugo's ink blot paintings.[back]
17 Gary Snyder, Mountains and Rivers without End. Counterpoint, Washington, D.C. 1996. p. 154.[back]
18 " Chang Dai-chien, "Perhaps greatest living exponent of traditional Chinese art," by Judith Eisner, The Pine Cone, Carmel-by-the-Sea, May 28, 1970, page 16. [back]
19 Paul Chang, personal communication, December 1, 1998. Paul Chang also recalls that his father was very fond of the view of Yosemite Valley from Tioga Pass, where Chang Dai-chien would stop to meditate on the view, and that his father kept a c. 1930 photograph of his brother, Chang Shanxi, during his visit to Yosemite destroyed in a fire). [back]
20 Chang Dai-chien wrote "The painter must travel extensively. Roaming in the famous mountains and on the great rivers and seeing uncommon flowers, strange plants rare birds and animals, he will find countless materials for his paintings." Hsung, Op cit. page 103. [back]
21 Paul Chang, personal communication, February 25, 1999. [back]
22 Hsung, Op. Cit, page 146. [back]
23 Alfred Frankenstein, San Francisco Examiner and Chronicle, Sunday, December 3, 1972. [back]
24 New Yorker Magazine June 15, 1998. [back]
25 John Pomfret, "The Master Forger," The Washington Post Magazine, January 17, 1999, page 25. [back]
26 Carl Nagin, "Master of Deception," Art & Antiques, May 1992, page 44. [back]
27 even the catalog for the 1998 exhibition "Inside/Out" co-organized by the San Francisco Museum of Modern Art and the Asia Society mistakenly reads that Chang Dai-chien moved to Taiwan with the Kuomintang in 1949; page 203, UCPress, Berekeley, 1998. [back]
28 These include Diana Kan, Huang Shih, and of course Paul Chang, who exhibited with his father in both Carmel and Los Angeles. Chang Dai-chien's Dunhuang period and subsequent works have been very influencial and widely immitated in China. [back]