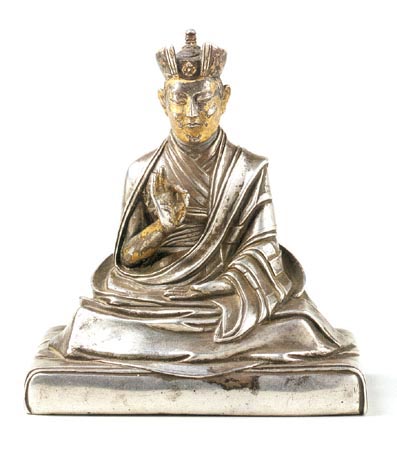 Biographical accounts of Mikyo Dorje (1507-1554), the subject of this portrait, describe an exceptionally accomplished man, even by the hagiographic standards of Tibetan religious biographies.366 Scholar, healer, painter, poet and sculptor, this enlightened master brought exceptional brilliance to every aspect of his life as leader of the Karmapa lineage. He was born in the Kham district of eastern Tibet, as prophesied by his predecessor, the Seventh Karmapa Chodrak Gyatso.
This fine sculpture depicts the Karmapa seated on a low rectangular cushion covered with a rug, his robes arranged in an elegant display of rhythmic folds, His right hand is raised in a gesture of religious discourse, while his left hand rests in his lap. The face and arms were once entirely covered with matt gold paint. Similarities may be drawn between this figure and another silver sculpture that portrays the Ninth Karmapa Wangchuk Dorje (1554-1603), dated by inscriptional evidence to c. 1598.367 Both figures are portrayed wearing robes similarly arranged in deep folds. This image may have been made during the lifetime of the Karmapa, although there is not enough stylistic evidence to confirm a sixteenth-century date and the possibility cannot be ruled out that the image was made in memory of the Karmapa later, during the seventeenth century. (cat. pl. 48)
366. An inscription along the back of the cushion identifies the figure as Mikyo Dorje: rje mi skyod rdo rje la na mo /
367. Pal (1997), pp. 64-5.