Luohan resting on a lion
Qing Dynasty

For thousands of years Chinese scholars, men greatly esteemed by their society, were also collectors of high quality, highly sophisticated art objects-some functional, some inspirational, most small enough to decorate a scholar's desk or complement his study. Treasures of the Chinese Scholar, a new exhibition at the University of Pennsylvania Museum of Archaeology and Anthropology opening March 14, 1998, features 160 selections of extraordinary "scholar art"-calligraphy, painting, and works of art in wood, lacquer, ivory, stone, horn and metal-from as early as the Zhou Dynasty (770-256 B.C.) through the Qing Dynasty (1644-1911 A.D.). The exhibition, drawn from collection of Ji Zhen Zhai ("Studio of Accumulated Treasures"), is on view through January 3, 1999.

Table and chair
Ming Dynasty

The Museum offers a host of opening weekend activities, including a gallery talk and tour by exhibition curator and collector Dr. John Fong, and a Saturday morning children's workshop on Chinese calligraphy. On Sunday, March 15, the Museum offers an "Asia Afternoon" featuring an artist demonstration, a gallery tour led by the exhibition curator, a musical performance and a screening of "The Joy Luck Club."

The traditional Chinese scholar spent years studying the ancient classics and philosophical treatises while steeping himself in the moral principles of Confucianism in hopes of passing the Civil Service Examination. Passing this examination allowed him to enter governmental service, the key to entrance into a life of privilege, social status, politics, and aesthetics. Within his studio, his room for study and contemplation, he surrounded himself with "treasures" created for scholars-brushes, inkstones, water droppers, toggles, figurines and scholar's rocks. More than mere art curios, these treasures embodied the shared wisdom, traditions, and values of the Chinese literati who governed China for more than two millennia.
Drunken Luohan with attendant
Qing Dynasty
Mouse-shaped water dropper
Kangxi period
Tree, representing winter
Qianlong period
Dr. John K. Fong is curator of the exhibition Treasures of the Chinese Scholar, which first opened at the Chinese Culture Center of San Francisco (October 25 through December 14, 1997). Dr. Fong, a psychiatrist, has studied and collected Chinese art, developing the Ji Zhen Zhai Collection, for more than 25 years. Treasures of the Chinese Scholar (Weatherhill Publishers, 1997), a full-color illustrated book edited by Dr. Fong, is available in the Museum Shop.

Sanxian
Qing Dynasty

The exhibition is presented in thematic sections, providing viewers with an opportunity to see the diversity of objects collected by the scholar: Ink and Brush (tools and materials used in scholarly pursuits), Animal Motifs, Figural Portrayal, Nature in Symbolism and Materials, and Related Collections. In addition, several sets of scholar study furniture (from the Late Ming Dynasty, 17th century, to the Qing Dynasty, 18th century) , including chairs, chests, study tables, folding screens, lamps and candlesticks, are displayed, providing insight into the look and feel of the Chinese scholar's private study.

The tools of the scholar, the "four treasures" distinguishing him from the common tradesman, were those of writing-brush, inkstone, ink, and paper. The scholar hoped to become proficient in the art of poetry, painting, and, most importantly, calligraphy-"the three perfections." Brushes, bitongs (brush holders), inkstones, paper weights, wrist rests and other related paraphernalia became coveted items in the scholar's study as reproduction of these items reached a high level of refinement-and many of these items are displayed in the Ink and Brush section.

Miniature rock-form carving
17th century

Animal representations, real and mythical, rich in symbolic meaning, have been an important part of Chinese art from the earliest periods. The Animal Motifs section features the ever-popular dragon, carved in ivory or decorating a brushrest in jade. There are rams, of gilt copper from the early Han dynasty (206-220 A.D.) or carved ivory from the 18th century; a rabbit gracing a Song period (950-1279 A.D.) waterdropper; and cats, eagles, lions--even a cicada--decorating objects or standing as objects themselves.

Human figures were depicted in Chinese art as early as the late Neolithic period (beginning 10th century B.C.) Immortals, from a seated Buddha to Guandi, the God of War, carved in ivory, bamboo, boxwood or jade, depicted in porcelain or cast in bronze, are featured in the Figural Portrayal section.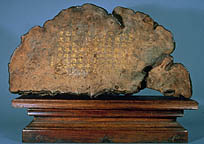 Imperial lingzhi fungus
Qing Dynasty

The theme of nature is everywhere in Chinese art, as aspects of nature permeate the life of the Chinese in philosophy, religion, art, architecture, medicine, and basic human subsistence for an immense population. Daoism, Confucianism and Buddhism, the three main formal religions of China, stress man's oneness with nature. In the scholar's study, both materials from nature (such as Imperial Linzhi fungus, Qianlong period, 1736-1795) and materials symbolic of or depicting nature, are frequently found art objects. A section of Nature in Symbolism and Materials looks at some of these pieces.

A section of Related Collections looks at a variety of items collected by the scholar, an avid collector and cataloguer of objects that were historically or culturally significant to him. Here are all manner of lacquered and carved boxes, teapots and trays carved of ivory, scepters of boxwood or iron with inlaid silver or carved tortoiseshell; porcelain water vessels and amphora; flutes of bamboo and of nephrite stone, and more.

Four happiness toggle
17th Century

Treasures of the Chinese Scholar is made possible, in part, by The Pew Charitable Trusts.

The University of Pennsylvania Museum of Archaeology and Anthropology is dedicated to the study and understanding of human history and diversity. Founded in 1887, the Museum has sent more than 350 archaeological and anthropological expeditions to all the inhabited continents of the world. With an active exhibition schedule and educational programming for children and adults, the Museum offers the public an opportunity to share in the ongoing discovery of humankind's collective heritage.

The Museum is located at 33rd and Spruce Streets in Philadelphia. The Museum is open Tuesday through Saturday, 10 a.m. to 4:30 p.m. and 1 to 5 p.m. on Sundays. Closed Mondays, holidays and summer Sundays from Memorial Day through Labor Day.

Museum admission donation is $5 adults; $2.50 senior citizens and students with ID; free to Museum members, children under 6, and University of Pennsylvania staff, students and faculty with a PENNcard. FREE ON SUNDAY AFTERNOONS through May 17, 1998! Visit the Museum's web site at http://www.upenn.edu/museum or call (215) 898-4000 for general information.
Mallet vase with
butterflies and flowers
Qing Dynasty
Detail of calligraphy
of Zhu Yunming
1519
Censer with interlacing
dragon design
Qianlong period