1948 | 1980 | 1998
Lhasa Archive Map Page
Lhasa Map: 1980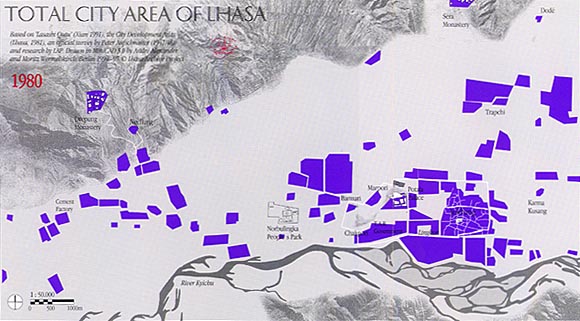 Part II -1985
Based on "Lasashi Qutu" (Xian 1991), the City Development Atlas (Lhasa, 1981) an offical survey by Peter Aufschnaiter (1947/48) and research by LAP. Drawn in MiniCAD 5.0 by Andre Alexander and Moritz Wermelskirch, Berlin 1994-97 copyright Lhasa Archive Project.
This part illustrates the pattern of urban development in the three decades since Tibet joined the People's Republic of China (17-point agreement in 1951). The smaller map shows the total city area of Lhasa in 1980, taken from the survey that forms the basis for the "Lhasa 2000" development plan.
In 1980, the Lhasa valley is filled with patches of new structures, many of which are administrative and technical facilities. Modern roads are being built or planned. The Lingkor, although somewhat changed, is still used for circumanbulation of the old city boundary.
The old city gate, in the form of a Buddhist stupa, has disappeared, like several other religious sites.
By 1985, the basic road network in Lhasa has been completed. A new main road leads through the old inner city, following the course of the old Changsepshar Road. A new open square has been created in front of the Jokhang temple. The old inner City is still a coherent entity and remains the center of Lhasa.
1948 | 1980 | 1998
Lhasa Archive Map Page