1. Thangka of Mikyo Dorje, the 8th Karmapa (1507 -1554)
Eastern Tibet
16th century
Size: 58 x 38 cm actual and 104 x 48 cm with brocade.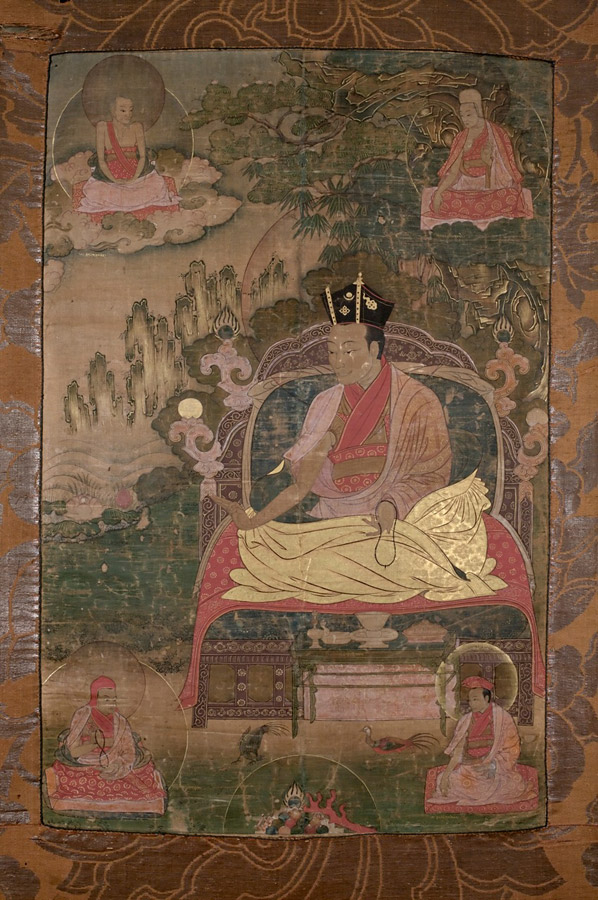 Detail: thangka


An historically important thangka of the 8th Karmapa who was a noted scholar and artist. He is shown with two of his principle teachers above and two of his four principle students below him.

The Siddha adept in the upper left hand corner is (Sangye) Nyenpa Drupchen (the Great Adept Sangye Nyenpa) (d. 1519) who was the main teacher of the eighth Karmapa. The red-hatted monk in the upper right hand corner is Kenchen (Great Knowing One) Chostrup Senge who performed the final ordination rites on the eighth Karmapa when the latter was 22 years of age. The lama in the bottom left is Tsuklak Trengwa, the second Pawo Tulku (a Karma- Kargyudpa incarnate lama meaning 'hero' tulku) who lived from 1504 – 1566 and was a disciple of Mikyo Dorje and a scholar who wrote a history of the Karma-Kargyupa sect. The Lama in the bottom right is Lama Tundra Richen, which may be (?) another name for the orange hat Yalta Talk Drape Tundra in the second Thangka who was recognized by Mayo Drone and was also one of his chief disciples.


Back to Thangka of Mikyo Dorje, the 8th Karmapa (1507 -1554)