The Buddhist paintings of Mongolia are directly related to the painting tradition of central Tibet. They are executed on cotton stretched on a frame. The cloth is first sized with a solution of chalk, glue, and arki (milk vodka), then polished with a smooth stone when dry.[29] The image is then drawn in charcoal according to the proportions in the shastras, or sometimes the artist may use a pounce. The pigments consist of mineral and vegetable colors, mixed with yak-skin glue. The finished piece is framed with silk brocades from China, and a thin stick and a wooden roller are inserted at top and bottom for hanging.
Mongolian paintings, following Tibetan traditions, can be painted on white, red, or black backgrounds. While the majority of paintings are executed on a white background, there are special images painted on a red ground (marthang), such as the Shakyamuni (cat. no. 64) in this exhibition. Paintings on a black ground, termed nakthang, often depict wrathful deities, and are kept in the göngkhang, the special room in the temple reserved for guardian deities.
Like Tibetan thangkas, Mongolian paintings are noted for their fluid line work, contrasting colors, and the intricate designs in gold. Characteristic Mongolian elements can be detected, such as the lotus pedestal in the thangka of Ganesha (cat. no. 75), whose petals are similar in style to those peculiar to the Zanabazar school of sculpture. His flaming halo with pearls is again Mongolian, showing close affinity with works in the Tibeto-Mongol pantheon.[30] The presence of the five principal animals (camel, horse, yak, sheep, and goat), soft peaks, and colorful clouds in the shape of Chinese ruyi fungus, are all characteristic of Mongolian paintings. Another feature peculiar to Mongolian paintings is the use of dotted brushstrokes on the low-lying hills in the background of the thangkas of Ganesha, and the Twenty-Five Kings of Shambhala (cat. no. 46), giving them a moss-like appearance.
Appliqués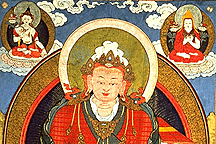 The appliqué (zeegt naamal) of Mongolia is like a giant thangka or painting. The embroidery needle and thread take the place of brush and ink, while pieces of silk and brocade are transformed into areas of color. Where one finds gold highlights in Buddhist paintings, in appliqués one finds gold threads, carefully couched along the edges, and golden brocades are cut into jewelry shapes (See appliqué of Phagspa, left)
Appliqué thangkas came into Mongolia together with Vajrayana Buddhism. Mongolians are familiar with this technique for the excavated felt carpet of the Huns from the Noyon Uul burials already showed a combination of embroidery and appliqué.[31] The Urga area is especially renowned for its appliqués used for decorating temples and palaces, done by women under the supervision of famous artists in the late nineteenth and early twentieth century. Apart from Tibet, appliqués are also made in the Himalayan kingdom of Bhutan and China. In Bhutan, only men produced this type of art.
Appliqués are called "silk paintings" in Mongolia because silk is the main material for creating this art form. Silk has been imported from China since ancient times. Every year, bolts of silk and brocades were given by the Chinese emperors to the high lamas and princes of Mongolia, as return gifts for their tributes, or as personal gifts. Besides being made into garments, silk is used for accessories such as belts, hats, and purses. In the monasteries, silk is utilized in many ways; to clothe lamas and deities alike; for cushions and throne backs; for canopies; and for framing thangkas. Any scraps left over were fashioned into elaborate temple hangings (fig. 12), tassels for drums and other ritual objects, and, of course, made into appliqués.
The appliqué of Dorje Dordan (cat. no. 86) is one of the best in Mongolia. It is pieced together with many interesting types of silk and brocade, including scraps of dragon-robe material. The appliqué of Begze is further ornamented with tiny coral beads (cat. no. 85). This addition of gems such as coral, pearls, and turquoise in appliqué is a purely Mongolian practice, and not found elsewhere.
The majority of book covers in this exhibition belonged to the Bogdo Gegens of Mongolia. These extraordinary book covers are not all Mongolian in origin; at least three of them were gifts from the Manchu emperors of China. Mongolians realized early that books were essential in disseminating Buddhism. Although Tibetan was the liturgical language of Mongolia, rulers, both Mongol and Chinese, made sure that the Kanjur and Tanjur were translated into Mongolian and published. Sutra-printing took place in many monasteries of Mongolia, on paper purchased from China and Tibet <! (see Bartholomew, p. 00)> . When Zanabazar visited Lhasa, he returned to Khalkha with the Jad-damba, written in gold on leaves of sandalwood.[32] Again in 1683, he commissioned yet another Kanjur from Tibet, as he was concerned with the religious education of the Khalkhas.[33] In 1804 the fourth Bogdo Gegen acquired from Lhasa a Kanjur, written in gold on black paper.[34] When the last Bogdo Gegen passed away, these books and others were transferred from his palace library to the National Library.
The same technique used in painting is applied to book decoration. Mongolian sacred texts are outstanding for their lavish ornamentations, such as the Sanduijud, with the text embossed on sheets of silver and gilded (cat. no. 62). In another example, the "nine gems," gold, silver, coral, pearls, lapis lazuli, turquoise, steel, copper, and mother-of-pearl, were ground up for use as pigments and the sutra was written in the nine colors on black paper in a fine calligraphic hand (cat. no. 59).
Wood is scarce in Mongolia, especially the type of hardwood used by Tibetans for carving book covers. There are some hardwood covers in the Bogdo Gegens' collection, but in general, Mongol scribes illustrated the title page on paper and then framed it with softwood, which was then embellished with Chinese brocades. The back covers of Mongolian sacred texts, following Chinese tradition, often depict the Guardians of the Four Quarters.
Mongolians are an artistic race and have a tendency to decorate every item on their body, inside their ger, and on the trappings of their animals. This is demonstrated not only by their highly developed handicrafts but also by many folk sayings in which knowledge is demanded from men and manual dexterity in women.[35]
The Mongolian national costume is a robelike garment called a del, that, like the Tibetan robe, has no pockets. The del is worn with a thin silk sash several yards long wound tightly around the waist. Attached to the sash are essential objects such as the eating set, tinder pouch, snuff bottle, and tobacco and pipe pouches. Mongolians, like the nomadic Tibetans and Manchurians, use an ingeniously designed eating set incorporating a sharp knife and a pair of chopsticks, and sometimes includes a toothpick, ear scratcher, and a tweezer. Some of the fancier containers, such as the example belonging to the wife of the Bogdo Khan (cat. no. 29), are made of precious metals and embellished with semi-precious stones.

The tinder pouch or flint and steel set consists of a small leather pouch with a strip of steel attached to its lower edge. Depending on one's station in life, the tinder pouch can be a utilitarian piece, or it can be a work of art such as the example belonging to a giant in catalogue number 6 (left).
Decorations on these accessories often show a combination of Tibetan, Mongol, and Chinese motifs. The two major types of pattern in Mongolian decorative art are the hee (ornament), "which creates the rhythm" and ugalz (volutes, scrolls), "which emphasizes the form."[36] Together, they create balance. There are five types of Mongolian motifs: geometric, zoomorphic, botanical, shapes from natural phenomena, and symbols. Geometric designs include alhan hee, or meander; tumennasan, or eternity pattern; olzii utas, or "happiness" knot; khan buguivch, or khan's bracelet; hatan suih, or princess's earrings; zooson hee, or coin; and tuuzan hee, or ribbon. Zoomorphic designs consist of hornlike and noselike (C: ruyi) scrolls; the four friendly animals (elephant, monkey, hare, and dove; cat. no. 25), the four strong animals (lion, tiger, dragon, and the mythical bird Garuda); the twelve Asian zodiac animals (rat, ox, tiger, hare, dragon, snake, horse, ram, monkey, rooster, dog, and boar); and the circle made up of two fish (C: yinyang). Botanical motifs are represented by the lotus (purity), peony (prosperity), and peaches (longevity). Water, flames, and clouds are shapes from natural phenomena, while symbols refer to the Soyombo (fig. 13), the Eight Auspicious Symbols, the Seven Jewels of the Monarch, and the Three Jewels. Many of these designs are of Tibetan and Chinese origin, but they merged with the basic Mongolian motifs into a rich decorative repertoire.
Many of these decorative motifs can be found on the embroidered cases for snuff bottles, another object which is attached to the Mongolian's belt. The habit of taking snuff probably came to Mongolia from China in the eighteenth century and by the mid-nineteenth century it was widespread. It was customary for the emperors to give fancy snuff bottles as gifts to their courtiers and foreign guests, especially the high lamas of Mongolia and Tibet. It was, and still is, the custom to exchange snuff bottles when Mongolians meet each other, and to offer the bottle again at the conclusion of business. While many snuff bottles were imported, Mongolia, with its rich deposits of agate and other semiprecious stones, also produced its own.
During the Qing dynasty, snuff bottles were kept in kidney-shaped brocade bags with a gathered top.[37] Snuff-bottle bags made by Mongolians are larger than the Chinese ones. Made of padded brocade, the Mongolian version is rectangular, with a slit opening down the middle. The bag is worn doubled over one's belt, thus keeping the bottle secured and protected even while on horseback. The example in figure 14 belonged to the last Bogdo Gegen, the last ruler of Mongolia. It is of red brocade, decorated with fancy braids and piping, and embroidered with a typical Mongolian ugalz (volutes or scrolling) design. Variations of this motif are seen on leather boots, stockings, and clothing. The embroidery consists of a special type of chain stitch, which involves using two separate threads (fig. 16). It is done in rows next to each other, in gradating colors. This type of embroidery is also seen on the tassel of the hand drum in catalogue number 23. Abbe Huc was especially impressed with what the Mongol women could do with the needle:
It is difficult to understand how, with tools so coarse, they can produce articles [clothes, hats, and boots] that are almost indestructible, though it is true that they take plenty of time to their work. They excel also in embroidery, and exhibit in this a skill, taste, and variety that is really admirable. It is very doubtful whether it would be possible to find, even in France, embroideries as beautiful and perfect as those sometimes executed by Tartar women.[38]
Generally speaking, Mongolian religious art closely followed the iconography and techniques of Tibet. But in every form of Mongolian art, there are minor details that betray its provenance. The green textured strokes on the rolling hills found in paintings are a Mongolian characteristic, as is the inclusion of pearls and semi-precious stones in appliqués. When a group of animals is shown in an appliqué or a painting, the Mongolian artists and craftsmen would include the "five snouts."
Although Mongolian sculptures follow the proportion and iconography of Tibet, Mongolia has its own schools of sculpture. The school of Zanabazar is distinguished by its exquisitely cast sculptures sitting on thrones with a wide variety of lotus petals. The artisans of Dolonnor, Inner Mongolia, manufactured large images out of pieces of hammered copper, and their headdresses and earrings have a distinctive style.
Chinese influence is discerned in the decorative motifs found in jewelry and utensils such as snuff bottles, eating sets and tinder pouch. The decorative repertoire of Mongolia is thus made up of Mongolian volutes and scrollworks, auspicious motifs from Tibetan Buddhism, and Chinese motifs such as shou characters, dragons, coins, peaches, and bats.