Message
Nineteenth century Haviland porcelain was a fairly common platform for antique Chinese patterns, particularly rose medallion, of which I offer up images of a cup & saucer as an example. After the opium wars and for most of the late 19th century, the British and French controlled Chinese inland navigation routes. And after the Taiping Rebels spawned a porcelain shortage by ransacking Jingdezhen and assassinating many potters there in 1855, the English and French simply brought in cargos of fine European porcelain blanks for painting in the famed factories at Canton. In addition to the Haviland, I also have Chinese-painted blanks from the Carl Tielsch kiln in what was then Silesia. I believe some Meissen porcelains were decorated at Canton as well.

I have no knowledge related to your Haviland dish with Japanese decoration, except to say that there's no reason to think the French and British ships weren't also calling at Japanese ports with the same kinds of cargoes during the late 19th century, particularly after 1868, when Meiji rule sparked a great increase in foreign trade.

Of course, considering how well the artisans of Canton were painting porcelain to European tastes, I suppose it might also might have been possible that someone commissioned a factory there to paint some Limoges blanks in Japanese styles (though I can't spot a thing about your dish that shows anything but the hand of a superb Japanese porcelain painter.

Best regards,

Bill H.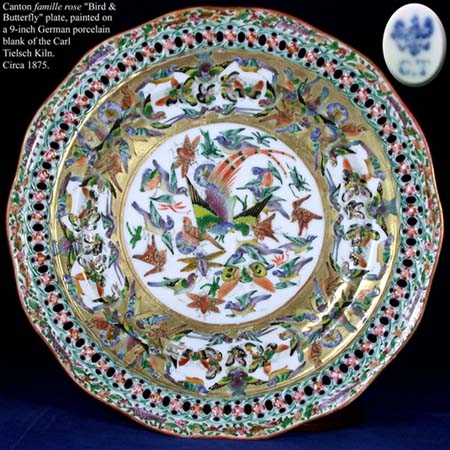 Post a Response
---