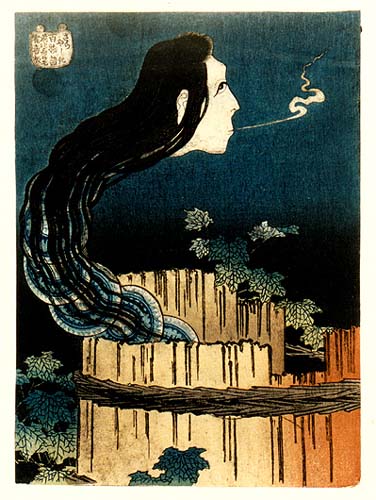 The House of Plates
Katsushika Hokusai (1760-1849)
From the series "One Hundred Stories"
Signature: Zen Hokusai hitsu
Publisher: Tsuruya Kiemon, 1830
Woodblock colour print
Loaned by the Borensztain and Drukker families
24 x 17.5 cm
This ghost story is very popular in the Japanese theatre. It is a story of a maid who is falsely accused of stealing plates and is killed by her mistress. The plate she allegedly stole was gold-inlaid and the gift from an important guest. The ghost of the maid haunts the mistress every night by appearing and throwing around gold inlaid plates, counting them as they fly about the mistress' bedroom.
All photos are property of Tikotin Museum of Japanese in Haifa, Israel