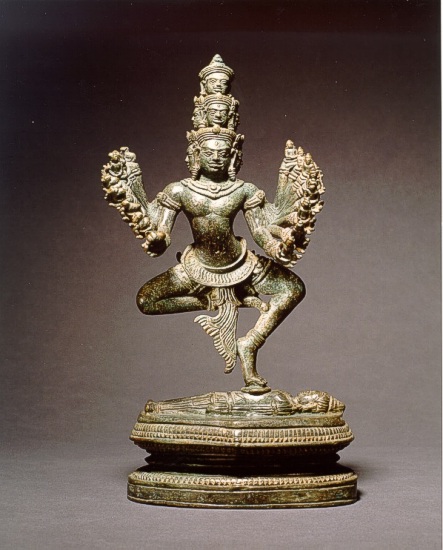 A bronze figure of Hevajra
Cambodia
12th-13th c.; Angkor period, Bayon style.
bronze
Height: 19.5 cm
A bronze figure of Hevajra; with eight heads in three registers; dancing on a recumbent figure with grooved lines on a double base; his sixteen hands holding his attributes; a large 'butterfly' at the back of his sampot.
Hevajra is the principle deity on the Tantric path to Enlightenment. He is described in the Hevajratantra, which lists his attributes and other characteristics. Of his dancing the Hevajratantra says: "He is possessed of the nine emotions of dancing: passion, heroism, loathsomeness, horror, mirth, frightfulness, compassion, wonderment and tranquillity".
His hands hold the following attributes: (right, bottom to top) elephant, horse, ass or dog, camel, human being, sarabha (a fantastic beast), and a cat; (left) a number of figures representing the personifications of the four elements, the sun and moon and wealth and death. All sixteen attributes sit in cups made of skulls.
The grooves on the recumbent figure, who represents evil preventing enlightenment, indicate that multiple figures, the four Mara, are represented; similarly, Hevajra's legs are grooved indicating that he has four legs.
The topmost head and the four heads of the central register represent the five Jina; the three lower heads represent Buddha, Lokesvara and Vajrapani.
The figure is secured to the base with its original fastening pin.
Bibliography:
Angkor 1997. Sculpture of Angkor and Ancient Cambodia. Paris and Washington 1997.
Boeles J.J., Two Yoginis of Hevajra from Thailand. In Essays Offered to G.H.Luce. Artibus Asiae 1966.Vol II, pp.14-29.
D.L.Snellgrove, The Hevajra-Tantra, London 1959, quoted in Boeles 1966.