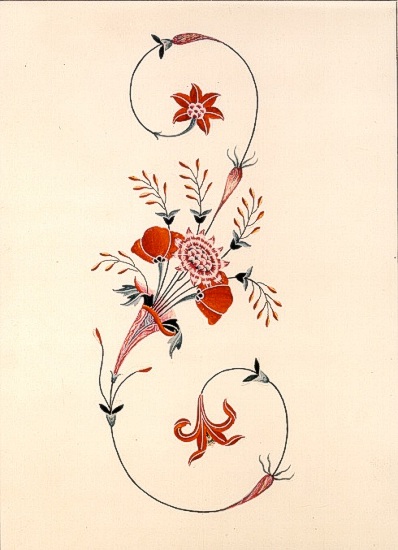 A painting of a detail from the cenotaph of Shah Jahan
India
19th c.; Company School period, c.1820 AD
paint on paper
23.9 x 17.5 cm
An architectural study in watercolour depicting a detail of the hardstone inlay from the top of Shah Jahan's cenotaph in the Taj Mahal at Agra. The design is of a stylised and exotic flower on a scrolling S-shaped vine sprouting further exotic flowers. The design is framed by a black ruled border.
Watercolour on Ruse and Turners watermarked paper. Similar depictions of this decoration are illustrated in Pal 1989, no.132, p.132.

Pal 1989
Romance of the Taj Mahal. P. Pal et al. Los Angeles 1989