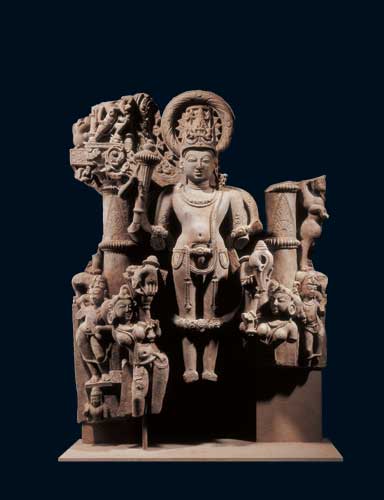 Vishnu
Northern India, Uttar Pradesh
late 9th century
Buff sandstone
Height: 94 cm (37 ins)
A high relief sculpture depicting a four-armed iconic form of Vishnu standing in samapadasthanaka (feet planted together). He holds the gadha (mace) budding with foliage in his upper right hand while his lower right hand forms varadamudra (the granting of boons). His upper left hand is now missing but would probably have held a cakra (disc, symbol of absolute completeness), and the lower left hand holds a conch. He wears a highly decorative conical crown, elaborate jewellery and is embellished with a long floral garland. A lotus halo frames his head, to the right of which can be seen a diminutive figure of Varaha (an incarnation of Vishnu).
The relief is set within two ornate pillars bordered with carved leogryphs and makara heads on the outer edges. Diminutive female attendants stand at his feet holding flywhisks, flanked by two male attendants. The size and the depth of the carving make this an imposing and regal figure.
Comparable example:
Desai, V. N. and Mason, D: Gods Guardians and Lovers, Temple Sculptures from North India A.D. 700-1200, New York, 1993, p. 262, fig 70.