Part Two: The Dharmapalas or Wrathful Protectors
| | |
| --- | --- |
| Fig. 62 | |
Dharmapala means protector of the teachings and, by extension, protector of the people who are affiliated with the teachings. In theory a Dharmapala is a demonic deity who has been conquered, converted and domesticated into the service of Buddhism to protect the religion and its people from all manner of harm. Dharmapalas are sometimes called "wrathful Buddhas" in contrast to the peaceful Buddhas discussed above, but they are not "Buddhas" at all and "wrathful" doesn't describe their protective powers. Still, "wrathful Buddhas" is a well established term for them. By Mongolian convention there are ten principal Protectors or, in Mongolian, sakhius. But, while there is agreement on the names of nine of them, the burhany zurags and Mongolian thangkas evidence some disagreement over exactly who the tenth might be.
| | |
| --- | --- |
| | Fig. 63 |
Burhany zurags, following Tibetan practice, will center a collection of the ten Dharmapalas around an image of Yamantaka, the destroyer of death, whose hugely complex image has a principal face that is that of an enraged bull and six additional faces, three to the left and three to the right of the central face. He has thirty four hands holding symbolic weapons, and sixteen legs, eight are crushing animals and gods to his left, and eight crush birds and gods to his right. He has two heads above his central head, the topmost being the head of the Bodhisattva Manjusri with a "slightly wrathful" appearance. Yamantaka is the wrathful form of Manjusri. He embraces his consort Vajravetali. He can be depicted alone in burhany zurags or surrounded by nine other Dharmapalas. In addition the seated figure of TsongKapa surmounts the whole scene, for the vision of Yamantaka in this form stems from the Gelug school of Tibetan Buddhism that TsongKapa established.
The thangka illustrated below is clearly a "folk art" creation, but it has been carefully prepared and it contains the iconographic details to be found in versions painted by more professionally skilled artists. Unlike the Peaceful Buddhas thangka, which is not a standard iconographic motif, thangkas such as the one below containing nine other Dharmapalas centered on Yamantaka are not uncommon even among the burhany zurags, whose small size makes such a complex map of embodied energies a particular challenge. I will call this iconic type Dharmapala thangkas, for while they display Yamantaka prominently, they are designed to display the whole array of Dharmapalas and not just one.
Almost all of the Dharmapalas are shown against a background of fire that is usually red-orange in color, although it can be dominated by black-gray smoke; Mahakala's flames are always red-orange; Palden Lhamo's flames are often grey-black. The Dharmapalas Thangka below is filled with energy and action, shooting flames and curling smoke, rolling clouds and dancing deities dominate the picture in every respect but one, the little figure of TsongKapa sits calmly atop the whole just as he does in the Peaceful Buddhas thangka. In both cases his presence affirms the sectarian Gelug origin of the artwork and affirms that despite the multiplicity of superhuman figures in the painting, a human being rises above all the other iconic forces.
| | |
| --- | --- |
| Fig. 64 | |
Here, as in the Peaceful Buddhas thangka, the deities stand in a landscape of rolling grassy Mongolian hills; similar thangkas from Tibet often have snowcapped mountains as their background. Also, as in the Peaceful Buddhas thangka, half of the deities are stationed above the landscape and half within the landscape, with a central figure crossing the center line, dominating and uniting both halves of the picture.
At the bottom of the Dharmapalas Thangka stands a line of three major protective deities, from our left to right, Yama, Mahakala and Palden Lhamo. As depicted they are larger in size than any other Dharmapalas except Yamantaka and this represents their greater importance. Also, within the plane of the painting, they stand nearer the viewer than any of the others. These three are so tightly associated one with the other that their trinity has a special name: gonchoi lkhaa sum.
Yama has a buffalo head and stands dancing on a kneeling buffalo beneath whom is a naked man. Accompanying Yama is his twin sister and consort Yami, who is also known as Chamundi. Yama received his odd head because, the story goes, when he was a human sage meditating in a cave two bandits with a stolen bull entered the cave, slaughtered the bull and prepared to feast on it. Yama, enraged at the interruption and at having been made to witness such slaughter, spoke up and was beheaded for his temerity. But, to the thieves' astonishment, he remained alive, replaced his own head with that of the bull, killed the thieves, ate them and then began to roam the countryside seeking whom he might devour. The terrified country folk appealed to Manjusri the great Bodhisattva, who then assumed the ferocious form of Yamantaka or 'destroyer of Yama.' He proceeded to successfully subdue and domesticate Yama.
| | |
| --- | --- |
| Fig. 65 | Fig. 66 |
These images show the remarkable amount of detail that artists of burhany zurags can bring into very small spaces. They are filled with life and energy, fire and motion just like the whole Dharmapalas thanka is.
Mahakala, which means "great black one," has several forms but the six-armed form represented in the central lower register of the Dharmapalas Thangka is by far the most common. Mahakala's various forms are treated as though they are separate independent Dharmapalas; one of the more prominent forms of 'the great black one' is even white in color. His six-armed "shadbhuja" form stands on and holds the flayed skin of an elephant, holds a chopper and skull-cup in from of him and wears a crown of skulls like all Dharmapalas do. The icon to the left below appears to be of considerable age, the icon below right is more recent and presumably was less expensive when originally purchased, for it surely is reasonable to assume that the price of burhany zurags is proportional to the amount of artistic effort and excellence that they represent.
| | |
| --- | --- |
| Fig. 67 | Fig. 68 |
Beside Mahakala in the lowest register of the Dharmapalas Thangka we find Palden Lhamo, the only female Dharmapala, riding her horse (according to her legend it is a mule, but it is usually painted as a horse) across a sea of blood surrounded by mountains.
Despite the complexity of her iconography Palden Lhamo is frequently depicted in burhany zurags partly, one suspects, because artists appreciated the challenge in portraying her detailed iconography, and it may be the case that Mongolian artists took more pleasure in drawing her horse than in drawing the deity herself.
| | | | |
| --- | --- | --- | --- |
| Fig. 69 | Fig. 70 | Fig. 71 | Fig. 72 |
The three deities in the lower register, the gonchoi lkhaa sum, are iconographically subordinate to the Yamantaka, the central figure of the Dharmapalas Thangka, but the number of instances of these four we find in the data-set of burhany zurags gives us a different impression of their relative significance to Mongolian Buddhist culture as one can see in the chart below:
Fig. 73
While Yamantaka dominates the scene in the Dharmapalas Thangka and is iconographically depicted as possessing essentially infinite power beyond all beings including the gods beneath his feet, the burhany zurag data-set shows that Mahakala and, especially, Palden Lhamo are more valued by Mongolian Buddhists. The red warrior Dharmapala Begtse also outnumbers Yamantaka, as we shall see.
Above the three gonchoi lkhaa sum and surrounding Yamantaka we find six additional figures for whom there is no canonical arrangement in thangkas of the ten protectors. Here we find two forms of Mahakala elevated above the gonchoi lkhaa sum: White Six-Armed (Sita Shadbhuja) Mahakala, a deity particularly affiliated with acquiring wealth, and to the right of Yamantaka, Four-Faced (Chaturmukha) Mahakala, depicted below in his most inexpensive form.
| | | | |
| --- | --- | --- | --- |
| Fig. 74 | Fig. 75 | Fig. 76 | Fig. 77 |
Above the two alternative forms of Mahakala in the middle register of the thangka are four deities whose placement varies in different thangka renditions, but some tendencies can be traced.. Artists almost always place Begtse, a red martial deity, adjacent to Tsangs Pa known also as "White Brahma" who is a human figure riding a white horse carrying a sword with a conch in his headdress as a unique identifying motif. In the thangka being discussed here, they flank the image of TsongKapa. Their frequent juxtaposition might lead one to think that they are relatively equal in popularity, but while Begtse is often depicted in burhany zurags Tsangs Pa almost never appears.
Begtse is Mongolian in origin, a central Asian war god named for his protective armor of chain-mail. The third Dalai Lama, on a trip to Mongolia, is said to have conquered and domesticated Begtse, who is always represented trampling on a human with his left foot and a prostrate green horse with his right. He is sometimes shown with two main associates and a host of other demonic warrior-assistants.
Vaisravana, also known as Kubera, is a well known god of wealth originating in the Hindu tradition. He is found throughout Asia from Sri Lanka to Korea in one form or another but, oddly enough considering his propensity to bestow riches, he is not terribly popular in Mongolia. He is depicted in a variety of ways but he usually is golden in color and seated on a lion with a banner on a pole above him and a magical mongoose that spits out jewels tucked under his left arm.
Nine of the ten protectors, the Dharmapalas of Mongolian Buddhism, are an established set: Yamantaka, Yama, Palden Lhamo, Shadbhuja Mahakala, Sita Shadbhuja Mahakala, Chaturmukha Mahakala, Begtse, Tsang Pa, and Vaisravana. In thangkas and burhany zurags of the ten protectors the three gonchoi lkhaa sum are always at the bottom and Yamantaka always dominates the center while the other figures can be arranged in various ways. But there is one serious area of disagreement; the identity of the tenth protector is disputed. Many thangkas have Vajrapani in that place and published discussions of the ten protectors often assume that one of them is Vajrapani. But Vajrapani is in a different conceptual category than the protectors are; he is a symbol of the energy and expedient means necessary for enlightenment and he himself is generally categorized along with Avalokitesvavra and Manjusri as one of the trinity of supreme Bodhisattvas. Vajrapani is far above the much lower level of domesticated violent protector gods who comprise the Dharmapalas. And yet, in appearance, he seems to be a Dharmapala (except that most of the time, but not invariably, he wears the jeweled crown of a Bodhisattva instead of the skull crown of a Dharmapala). So, while Vajrapani is usually the tenth protector, his place as a subordinate in that system, always inferior in size and place not only to Yamantaka but also to the three principal deities Yama, Mahakala, and Palden Lhamo, doesn't make good sense by the logic of Mongolian Vajrayana Buddhism. Accordingly, some sets of the ten protectors make substitutions.
| | | | |
| --- | --- | --- | --- |
| Fig. 78 | Fig. 79 | Fig. 80 | Fig. 81 |
Sometimes, instead of Vajrapani, one finds a depiction of Mahakala Brahmarupa, who appears like an elderly white-haired man with a long bone trumpet, and sometimes one finds Simhamukhi, the female dakini goddess with a lion's head, and sometimes, as in the Dharmapala Thangka under discussion, the tenth Dharmapala is Shanglon, a deity associated with medical learning and medical practice who quite frequently shows up at the bottom of sets of the eight forms of the medicine Buddha Bhaisajyaguru.
Because the identity of the tenth Dharmapala is disputed I will continue to follow the practice of the Dharmapalas Thangka that has been under discussion and use Shanglon as my example of the tenth. The whole set of ten protectors in the reference thangka, totalling 905 instances in the data-set, is divided among the data-set of burhany zurags as follows: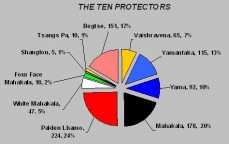 Fig. 82
It appears from this data that the overall categorization of the Dharmapalas or protectors into a set of 10 focused on, first, Yamantaka and then, secondarily Yama, Mahakala, Palden Lhamo, and finally six others of tertiary significance does not accurately reflect the regard in which these deities are held in Mongolian Buddhist life. There appear to be five protectors of the first rank, Yamantaka, the three gonchoi lkhaa sum, and Begtse. The other five are a good bit less common in the data-set. Indeed, all of them except Vaishravana have only slight signficance in terms of their appearances on burhany zurags and so, one can but conclude, have lesser importance in the lives of Mongolian Buddhists.
Part Three: The Worldly Protectors
| | |
| --- | --- |
| Fig. 83 | |
Thus far both thangkas we have examined have TsongKapa in the top center and this designates them as thangkas in the Gelug tradition, which is the predominant tradition of Mongolian buddhism. But the Nyingma tradition is present in Mongolia too. The thangka below is Nyingma, featuring the paradigmatic founder of the tradition, PadmaSambhava, in the top center position. In size it is in the category I have labeled burhany zurag for it is only 9.5 centimeters by 8 centimeters. Nevertheless it is remarkably detailed.
This thangka contains icons of four "worldly protectors" who are a lower level of helpful demonic being than the great Dharmapalas, while Begtse, in the lower left corner, is of the Dharmapala category. Worldly protectors were local gods or demons who were forcibly brought under the control of Buddhist power and whose energies are now dedicated to the benefit of Buddhists. They are less powerful than Dharmapalas but also they are less reliable and may turn against their Buddhist masters if not carefully controlled. While there are only ten Dharmapalas, there is no fixed number of worldly protectors and their iconography is more flexible than that of the Dharmapalas, making the identification of their forms a challenge.
This thangka features at its top central position not TsongKapa of the Gelugs but the founder lama and deity of the Nyingma sect, PadmaSambhava. The Nyingma claim historical precedence over the Gelug but the latter, in turn, claim to be a reformed and improved version of the Nyingma. Today ten of the thirty six Buddhist temples in Ulaanbaatar are Nyingma. [23]
In the Worldly Protectors thangka Hayagriva holds the central position. While he is never depicted in the assembly of the Ten Protectors, Hayagriva's popularity in Mongolian Buddhism is very great, showing that his powers are appreciated beyond the specifically Nyingma sectarian realm. Hayagriva is particularly valued for his power to drive away demons. Nomadic peoples value him particularly because his invariable identifying mark is that one or three green horse-heads emerge from his hair. He has three faces, a white face to his left, a red central face, and he has a green face to his right. Hayagriva means "horse-necked" and his neigh supposedly drives away or destroys demonic forces and so Hayagriva is particularly appropriate for a horse herding culture such as Mongolia has been.
| | | | |
| --- | --- | --- | --- |
| Fig. 84 | Fig. 85 | Fig. 86 | Fig. 87 |
For the Nyingma tradition Hayagriva's yabyum form, complete with iron Garuda-like wings, represents highest attainment and highest power. It is called his Krodha Atiguhya or "Angry Highest Secret" form and in theory is to be seen only by the highest level of initiates, although the fact that this form appears fairly frequently in burhany zurags means that it is not actually restricted from the Mongolian Buddhist public in general.
Remarkably, the number of burhany zurags of red Hayagriva, in his public and his secret forms combined, is matched almost exactly by the number depicting the red warrior Dharmapala Begtse, as the following chart demonstrates:
Fig. 88
In a data-set of this size numbers so close are functionally identical and so Begtse and Hayagriva are in a tie for the level of respect they command from Mongolian Buddhists.
The figure in the top left quadrant of the Worldly Protectors thangka is a form of King Pehar. Pehar is an ill-defined worldly protector whose myth of origins is as follows: Pehar was a non-Tibetan war god who was conquered and domesticated by the great warrior-magician-sage PadmaSambhava and put in charge of the huge ancient monastic establishment at Samye, Tibet. Later Pehar was forcibly removed by the fifth Dalai Lama from Samye to be brought nearer to Lhasa and stationed at Nechung, near Drepung monastery whereupon Pehar began to possess a Nechung lama through whom he gave oracular advice to the major rulers of the Tibetan monastic and governmental establishment, especially to the Dalai Lamas. Accordingly, a lama possessed by Pehar became the official state oracle of Tibet; this practice is continued to the present day.
Pehar Gyalpos (Pehar kings) appear in five forms (or, equivalently, are five brothers or have five manifestations) and those are associated with activity, mind, speech, virtue and body. Only two of those forms appear in burhany zurags in any significant numbers. [24] These are the Pehar of activity (39 instances in the data-set) who is the most complex and who most frequently appears as the major form in the center of fivefold mandala arrangements of Pehar iconography. That form is usually called, simply, Pehar. Pehar Gya Jin is the other principal form, the Pehar of mind. In the thangka under discussion Pehar Gya Jin is the blue figure riding an elephant at the top left (8 instances in the data-set). On the top right of the thangka stands Pehar actualized as the state oracle of Tibet, sometimes represented as a separate deity Dorje Dragden, the "chief minister" of King Pehar's retinue. The theory of oracular revelation holds that a person who is possessed by a particular spirit temporarily turns into that spirit. The person is absent, for the time being, and the deity is present. That deity is depicted in the top right hand portion of this thangka.
On the bottom left of the thangka stands Begtse, one of the ten protectors, and to the bottom right we have Dorje Legpa riding a lion who, his iconography stipulates, looks back towards him admiringly. Dorje Legpa, like Pehar, is a demonic deity domesticated by PadmaSambhava and his principal duty is to protect the secret "treasure teachings" of the Nyingma sect. The data-set of burhany zurags has few, if any, representations of Dorje Legpa, but his principal associate Garwa Nagpo, a deity affiliated with blacksmiths particularly, occurs 38 times, almost exactly as many times as "Activity King" Pehar does.
| | |
| --- | --- |
| Fig. 89 | Fig. 90 |
PadmaSambhava, who appears in the top center of the Worldly Protectors thangka, is the legendary founder of Tibetan Buddhism. He is said to have been a missionary and magician, a shaman and enlightened Buddha but if he had a real human history it is lost now in a marvelous tapestry of legend and mythology. PadmaSambhava represents the Nyingma tradition as TsongKapa represents the Gelug tradition, although both figures are respected across the sectarian boundary.
Since TsongKapa is emblematic of the Gelug sect and PadmaSambhava is emblematic of the Nyingma sect it is interesting to observe the ratio in the data-set of the icons of each. There are three representations of TsongKapa (119 instances) for each one of PadmaSambhava (42 instances) and this probably, in a general way, reflects the relative significance of their sects to the Buddhists of Mongolia. [25]
| | |
| --- | --- |
| Fig. 91 | Fig. 92 |
This study, is only an introductory survey of the miniature Buddhist burhany zurags of Mongolia looking for a way to bring Mongolian facts into a world too often dominated by Tibetan and Euro-American-Tibetan ideologues. Perhaps a global overview would be a fitting ending, a depiction of the forms of deity that the data-set indicates have been of most value to most Buddhists in Mongolia. This may give one a way of seeing beyond official teachings and anecdotally based opinions into the situation as it is or, sadly but more accurately, the situation as it was.
Fig. 93
Of 5,120 Mongolian burhany zurags collected randomly in the data-set, 2,749 or over 53% are represented in this chart of 11 principal Mongolian Buddhist deities. [26] With the understandable exception of the Buddha, Sakyamuni, there is not one other figure who differs from his or her nearest chart-neighbor by more than one percentage point (27 instances). This fact seems to me to indicate that the distribution of deities is caused not by ideology (where I would expect the deities to be divided into rather clear-cut categories) but by preferences driven by their perceived utility in solving personal problems and protecting against personal dangers. The burhany zurags are a whole world of delightful iconic representation. They give us insight into the values of Mongolian Buddhists independently of any other forms of Buddhism. It's time the world outside of Mongolia came to appreciate them.
---